Since I'm on the road for all of 2018, I'll be starting a short-term journal series about life on the road starting with the South American Diaries. I'll post monthly "diary" entries about my journey across the continent for the next three months along with other content.
Winter is a choice. This year I chose wisely and booked a one-way flight to Argentina in mid-January. I belong in flip-flop weather.
Buenos Aires is my home base for the next month. I fell in love with this city on my first trip in 2015. It is intoxicating. It feels like a Latin Europe sprinkled with a bit of third-world charm reminiscent of Havana. It's the middle of summer, but there's low humidity. Plus, it never gets above the mid-80s. There's very few mosquitos.
This city never sleeps. People don't eat dinner until after 9 p.m. at night. They go dance tango until 5 a.m. Siesta is a thing here. Many restaurants close from 2 p.m. to 8 p.m. daily.
The culinary scene reminds me of Europe – breads, pastries and tons of steak. The fresh fruit is amazing and cheap. I've started a quest to find the best empanadas and craft breweries in the city. (More on that in my next post!) Even though you can drink the tap water (I do), many locals don't. Aside from the threat of pickpockets, the city is relevantly safe.
The people always make the place. I fell right into an amazing and diverse friend group including folks from Venezuela, a few local porteños, which is the term for people from Buenos Aires (BA), and several other Americans. The majority of the folks in our friend group are digital nomads, which means we have all either built business or lives that allow us to work remotely from any corner of the world. It's very rare in life that you meet people who truly understand you.
Our friend Raul, who grew up in BA, invited us to dinner at his parent's house the first week I was in town for an asado (barbecue). The dinner started at 8:30 p.m. and lasted until almost 2 a.m. on a Monday night! It felt like a five-course meal – seasoned eggplant appetizers followed by salad and tender beef with potatoes. The meal ended with ice cream with waffle cones his mom had picked up right before dinner from the ice cream shop around the corner.  There was more wine, beer and soda than all 10 of us could drink! After dinner, the three musically talented folks in the group played guitar or ukulele. (Wonderwall by Oasis is by far the most universal cover song that everyone knows!) Afterwards, Raul and his dad walked us to the bus stop. That night is what travel is all about.
Another highlight is the night I walked over to the planetarium with four friends to take night photos. Turns out, 400 people had the same idea! The place was packed for the nightly light show. The weather was a perfect 75 degrees with low humidity. There's nothing better than being in a place where you can drink wine in a public park in great weather with awesome people.
I rented an apartment with one of my best friends and fellow digital nomad, Tokyo Becky. The goal of this month was to focus heavily on freelance projects and start writing my newest venture – a self-published eBook that I mentioned in my previous post that outlines my financial philosophy and habits that allow me to save half my income, have no debt and travel nonstop. I'm spending my days split between work and exploring the city. I try to do at least one new fun thing a day to make the most of my time here. Some days are spent exploring more than others—checking out the museums, my quest for the best empanadas and craft beer in the city, $5 tango classes and taking day trips from the city.
After my time in Buenos Aires, I'll head to Uruguay, Chile and Colombia.
Every single moment of life abroad is an adventure from walking down the street to trying to book flights through a local airline's website in Spanish. (Trust me, this last one is hilarious.They hate Chase credit cards!)
A few random observations on life in Buenos Aires
The only thing I don't like about this city is the mystery water. When I walk down the street, I keep getting hit by droplets of mystery water, which I later realized was coming from the window air conditioning units that are prevalent here.
The women in Argentina are obsessed with platform shoes. In 2015, I thought it was the trend that season but it's actually just ingrained in the culture. Many of the women are short and wear 3-4 inch platforms daily. Even with the platforms, they are still shorter than me. I'm only 5 '6"! I haven't seen a single girl wearing regular heels.
Spice isn't a thing here. I decided to make breakfast tacos for dinner and searched the entire grocery store for salsa. The closet thing we found was Tabasco. Black beans are also hard to find.
The subway trains usually have a street vendor on them selling everything from sewing needles to gum. They walk around and put one of each item on everyone's lap. Then, they come back around to pick it up. If you want it, then you pay but otherwise, you give it back. It's the most hilarious thing because people just let the street vendor just put the item on their lap even though they don't want it. There were two little boys walking around selling Minion valentines cards.
You get a 15% discount when you pay with a credit card at certain grocery stores on weekends. Why is this not a thing in the US?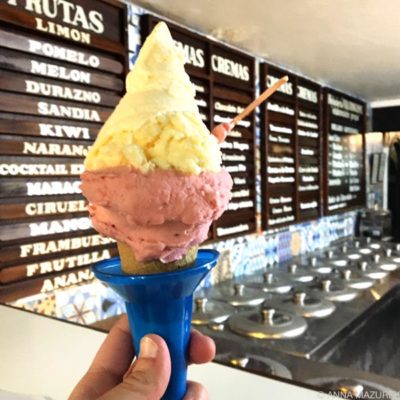 Ice cream is an art form here. There are usually four options for cones—a regular sized waffle cone and three tiny sugar cones that decrease in size and price. The smallest cone is less than two inches high, but they pile on the ice cream almost three times the size of the cone!
I got stuck on an elevator with 11 eleven people the other night between two floors in my apartment building. Luckily, we were only stuck for about five minutes before the security guard pried the door open and we climbed out. (The weight capacity for the elevator was 12 people, and we had 11 tiny people.) I'm convinced that we would have been stuck for hours if it wasn't for the fact that there was three bottles of wine on the elevator with us!
One of our American friends here got the phone call that every person on the planet dreads—a family member received some devastating health news. He flew back to the States shortly after. On our way home from his goodbye party, the mood was somber. I chatted with the other Americans about the sad situation. We all agreed that we were grateful to be traveling now because you never know what will happen in life. We could all get the same call one day but were glad we had decided to embark on our current adventures and digital nomad careers now instead of putting our dreams on a shelf to get dusty with age. Bottom line: Life is short. Live NOW.
That's all for this edition. Sign up for my email list to be notified for the next edition of the South America Diaries! (You can sign up in the sidebar on the right side of the page!)
__________________________________________ 
COMING UP NEXT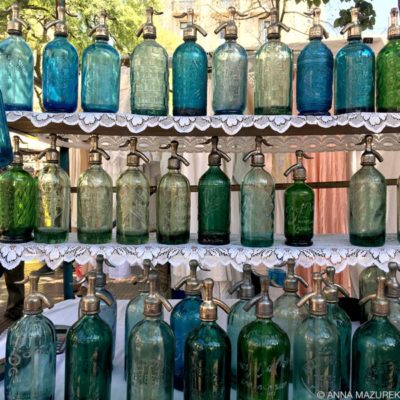 Photo Guide to Buenos Aires, Argentina 
In my next post, I'm working on a city guide to Buenos Aires! I'll write up a summary of all the highlights to the city include where to eat, drink and visit!