It is impossible to resist the charm of India. There is no place on the globe as colorful, intense, captivating, heartbreaking or complex.
Despite the bouts of food poisoning and the time my right foot fell through a sewer drain, I can't resist coming back. (I spent five summers in India teaching photography to high school students.) Every single moment, even just walking down the street, was an adventure.
While I've only explored a small portion of the vast country, there were endless amounts of surreal moments – photographing the Dalai Lama's teaching at his temple in McLeod Ganj, skipping rocks across the clear waters of Tso Moriri Lake along the Tibetan border, and living on a houseboat in the tranquil backwaters of Kerala.
I consider India to be my greatest teacher. The people quickly won me over with their kindness and humble elegance. I stayed at a guesthouse in the Himalayas run by an old man and his daughter, who was a nun. They spoke no English. The 80-year-old father spent the evenings by the wood stove reading his Buddhist mantra and spinning his prayer wheel. They had no running water and only had electricity for a few hours each night. Their life was simple. Yet, they were the happiest people I've ever met. I couldn't help but wonder who has the better life—me or them? Their lives are harder physically, but Western life seems harder psychologically.
India dissolved every notion I had of the world and opened my mind. She made me grateful for the all the little things I took for granted and set my priorities straight –running water and 24-hour electricity are luxuries, not necessities. I have a greater appreciation for the ease of life in the U.S. thanks to India.
India also makes me laugh. Where else in the world can a herd of camels cause a traffic jam? Newspaper is considered an acceptable form of food storage. I'm always in awe and secretly jealous of how the locals can sleep soundly literally anywhere—on the tops of cars, concrete doorways or a grassy spot in the median of a large busy highway in the Texas-like heat. The U.S. would require you to sign a liability waiver and wear a hard hat just to walk outside the Delhi airport.
For more about India, check out my next post: 12 Places Not to Miss in India!
Traveling in India is the greatest adventure. Yes, it smells at times, but the scenery is so stunning it defies words. It will make you feel as if you stepped into a wall calendar. The poverty, heat and spices can be intense, but it's worth every minute. The people will win you over with their kindness and resilience.  There is no place in the world as intensely beautiful or complicated.
I've compiled a list of my favorite places—a mixture of both well-known and off the radar spots that I discovered during my five summers in India. I never knew most of these places existed until I arrived there by happenstance or a recommendation from a friend/coworker. Writing this post made me more homesick for India. I hope it inspires you to book a flight!
1. Metab Bagh
Metab Bagh is the best place to get an iconic view of the Taj Mahal minus the crowds. These stunning gardens lie across the river from the Taj. From my experience, it's one of Agra's best kept secrets because taxi drivers never seem to want to take you here unless you are clear about where you want to go. TIP: Go at sunset then go see the Taj at sunrise the next day. (Trust me on this, I've been to the Taj seven times.)
2. Khardung La
Imagine a spider web of colorful, tattered Buddhist prayer flags strung from a rocky snowcapped mountain top. Include a small tea stand and a giant sign that says you are on the world's highest motorable road, and you're at Khardung La. The scenic mountain pass is located in the Ladakh region 39 km from the trekking tourist hub of Leh and connects the Shyok and Nubra Valley. While the sign at the top claims, the altitude is 18, 379 feet, it's actually 17,582 feet. Until a few months ago, the pass held the title as the highest motorable pass in the world but a new road in India has now claimed the title.
3. Panna Meena ka Kund, Jaipur, Rajasthan

This 16th century stepwell lies near the Amer Fort in Jaipur. It's smaller than the famous Chand Baori stepwell, and there are no barriers keeping you from climbing the steps to the water. It's deserted after the crowds leave the Amer Fort.
4. Kerala Backwaters
Everyone should spend a few days or a week living on a houseboat exploring the tropical backwaters of Kerala, a palm-tree lined labyrinth of canals, rivers and lakes that parallel the Arabian Sea in Southern India. The state of Kerala is rated as one of the safest and most environmentally friendly. In my opinion, it's one of the cleanest parts of India. Southern Indian food is amazing especially thoran, a dry curry with shredded coconut and beets.
5. Dalai Lama's Teaching in McLeod Ganj
One of the most amazing experiences in my life was attending the Dalai Lama's teaching at his temple in McLeod Ganj India. I managed to get a photo pass two years in a row. (You can't take in a camera unless you have a photo pass.) The experience itself is amazing – the power of his humble smile, the smell of the fresh bread the monks pass out while he speaks and the hum of countless languages floating around the room. His temple itself is stunning. Even if you can't hear him speak, be sure to explore his stunning temple.
How to attend the Dalai Lama's teaching in McLeod Ganj: You need a ticket, which are only available three days before the teaching at the Tibetan Branch Security Office. Foreigners must bring their passports to register. Seating is first come, first serve with most locals saving their seats a few days before by marking their spot with a pillow. There's heavy security and metal detectors when you enter so arrive early. For more information, check the Dalai Lama's website.
6. Qutab Minar
If you love ancient ruins, then you'll love India. The Qutab Minar is one of my favorite. The UNESCO World Heritage Site lies in Delhi and features a 239-foot tall sandstone tower built in the 13th century. It was a victory tower built after the Islamic conquest of India. Be sure to explore the intricate cloister columns of the Quwwat-ul-Islam mosque at the base of the tower. (Entry fee: Foreigners 500 Rupees/$7.65 USD; Indians 30 Rupees/ 45 cents USD)
7. Bangla Sahib Gurudwara (Sikh temple), Delhi
If you only visit one place in Delhi, this is it. Built in 1783, the white-marble Sikh temple complex, topped with golden domes is surreal. It features a Gurudwara (main worship hall), large holy pond and langar (kitchen). The kitchen serves free meals twice a day and is open to everyone. People of all faiths are welcomed to visit the temple and volunteer. Everyone here is so welcoming and kind. I once visited the temple to watch a lunar eclipse, which was an amazing experience. Bring a bandana or scarf to cover the top of your head to visit. No shoes are allowed inside. Entry is free, and there's a helpful tourist office.
8. The Blue City (Jodhpur)
Jodhpur will be my first stop on my next trip to India. It's been on my list for years. It's the largest city in Rajasthan and known for its blue buildings. It's called the "sun city" because it has sunny weather year-round. The houses are painted blue to keep them cooler.  It's accessible by train from Delhi and Instagram-worthy.
9. Breakfast Buffet at the Oberoi Hotel
The Oberoi Hotel breakfast buffet is roughly $20 and worth every penny. After a few months in India, this buffet saved me. I was craving real blueberries and yogurt! There is an elaborate display of both Western and Indian breakfast items. Everything listed on their menus along with fresh juices and a long list of teas is also included in the price. There are two locations in Delhi and both are equally amazing. Breakfast runs from 6:30 a.m. to roughly 10:30 a.m. The third location is undergoing renovation and will open in January 2018. To be clear, I never stayed here because it's out of my price range. I would just stop by for breakfast as a treat to myself.
10. Skip Rocks at Tso Moriri Lake

Tso Moriri Lake is one of the best places to skip rocks in the world. It's the largest high altitude lake in India at 14,836 feet and lies near the Tibetan border. The water is crystal clear and fed by springs and melting snow. (It's freezing. I stuck my feet in once.) It's located near the town of Korzok about a six-hour drive from Leh down bumpy roads. There's an unlimited supply of flat rocks along the edge of the lake. The locals are total pros at skipping rocks!
11. Varanasi
Varanasi is the epicenter of the charming chaos of India. It is the holiest city in the country – the center of life and death – and possibly the oldest living city in the world. Hindu pilgrims journey to the city to wash away their sins at the bathing ghats along the holy Ganges River. Being cremated at the burning ghats along the river is said to end the cycle of rebirth. Ironically, the sacred river is severely polluted and unsafe for drinking and bathing. Yet, it is normal for a dead cow carcass to be floating within 20 feet of a man bathing. Religion is by far the most powerful force in the world.
12. Leh
Leh is a little tourist town in the Himalayas (11,500 feet) accessible via scary mountain roads or an equally frightening plane landing. It's a great place for rest between treks and amazing for street photography! It's by far one of my favorite towns in India. Take the short hike to Leh Palace and Namgyal Tsemo Gompa monastery from town. There's several great monasteries and palaces nearby including Stok Palace, Shey Palace, Spituk Monastery, Thiksey Monastery, Matho Monasteary, which can be done in a day tour. I recommend visit nearby Alchi and doing homestays in Ang.
______________________________________
Tips for Visiting the Taj Mahal
Visit at sunrise. Be there first thing when they open at sunrise. There's less people, bugs and vendors trying to shove little Taj snow globes in your face. Plus, the light is nice for photos and it's cooler. The Taj is open sunrise to sunset daily. There's no exact times listed on their website. They are closed on Fridays.
Don't go on Fridays. Again, it's always closed on Fridays.
Dress appropriately. Both men and women should cover their knees and shoulders. I recommend wearing those baggy hirim pants, which are cool and great for keeping the mosquitos away.
Don't take a bag. Carry your camera. They are very strict about what you take inside. No pens, gum or toys are allowed. It's a very holy and fragile place. (My gnome got kicked out the second time I took him. Although, there was a professional level British film crew shooting parkour inside but yet my gnome wasn't allowed.)
For the best photos, visit Metab Bagh mentioned above. These are the gardens across from the Taj. I recommend to visit at sunset the night before you see the Taj.
Plan your transport. The trains to Delhi only run at certain times so you pretty much have to spend a night in the city. It's annoying. I think the trains back to Delhi only leave in afternoon. You can rent a driver to take you from Delhi as well. If you do this, pay the $15 for the toll road. It's only 3 hours and much nicer than the seven hour insanity you'll endure on the other route.
Visit the Red Fort.  You get a discount on admission if you do this and Taj on same day.
Other tips for India
India is a vast country. You can't see it all at once. Plan according to seasons based on where you want to go. Summer is miserable in Delhi but perfect in Ladakh. Choose accordingly.
Take safe taxis in Delhi especially at night. MERU is a safe taxi service I recommend in Delhi. They operate from the airport and you can call them anytime. Otherwise, have your accommodation order you a taxi. Tuktuks are fine during the day but be weary at night. The metro trains in Delhi are really nice and have a separate women's car.
Dress conservatively out of respect. Cover shoulders and knees at all times.
Accept the fact that you will get sick. It's part of the experience. Pack antibiotics and electrolytes.
__________________________________________ 
COMING UP NEXT
Best Travel Gifts for the Holidays 



After an intense year of traveling (Kilimanjaro, Yellowstone, etc.), I've discovered a ton of great gear and accessories that have made my life easier.  I'll share my top travel gift ideas for the holidays in my next post, which you can easily send to Santa or pass along to your family.
Ghost Town Road Trip: A Guide to Bodie, California
Let me tell you a travel secret: The most amazing places are usually the hardest to find. The ghost town of Bodie, California is one of those places. It's literally in the middle of nowhere 106 miles south of Lake Tahoe and east of Yosemite National Park.
The former 1800s gold mining town is now a California State Park. It was preserved in a state of "arrested decay," which means the foundations, windows and roofs were repaired and stabilized but not restored. There's no mannequins with ill-fitted costumes or bowls of wax grapes in sight. No fake reenactments or ice cream shops. It's refreshingly beautiful especially for someone like me who is obsessed with photographing abandoned places and ancient ruins. I squeezed in a day trip to Bodie on a trip to Tahoe when I was visiting a friend in San Francisco at the end of the summer.
Gold was first discovered by W.S. Bodey of New York in 1859. He died in a blizzard a few months later and never saw the town that became his namesake, which oddly enough was spelled differently. The boomtown days of Bodie started after mine collapsed in 1875 to reveal a rich body of gold ore. During the rush, the mining district included 30 different mines and nine stamp mills from 1877-1881. Unsuccessful mines started closing and the population plummeted in the early 1900s. Mining ceased in 1942. Caretakers were hired by the family of James S. Cain, Bodie's last major landowner, to protect the town from vandals and looters. California State Parks purchased the town in 1962 to preserve the town and buildings.
Prepare to spend most of the day in Bodie. Over 50 buildings are still standing and a handful are open to the public including the 1890 Standard Mill, which is accessible only by guided tour three times a day. The town covers a large area and might feel like a bit of a workout since the town is at an altitude of 8,375 feet.
Tours
Once you pay the entrance fee, you are free to roam the town accept the Stamp Mill and other areas that are fenced off for safety reasons (old mine shafts). The only way to see the inside of the Stamp Mill is on a 50-minute tour, which are offered daily for $6. Tours are offered at 11 a.m., 1 p.m. and 3 p.m. from June to early September. If you're visiting outside of that date range, ask the park museum for tour times. (I highly recommend the tour for photo opportunities.)
During the summer months, the park offers night Ghost Walks and Ghost Mill Tours featuring legends and ghost stories about the town. There are usually three different tour dates that sell out quickly.
Be sure to bring water and snacks. They do have water fountains by the restrooms, but they don't always work.
When to Go
Due to the altitude (8,375 feet), it can be difficult to reach Bodie in the winter except by skis, snowmobile and snowshoes. The park is open all year.
Summer Hours (March 18th – October 31st):  9 a.m. – 6 p.m.
Winter Hours (November 1st – March 17th): 9 a.m. – 4 p.m.
Entry fee
Adults: $8
Children (age 3-17): $5
Children under age three: Free
Be sure to buy the $2 map and guide because the buildings aren't labeled.
How to get to Bodie, California
While the town is 106 miles southeast of Lake Tahoe, the drive takes two hours due to the tiny two-lane roads and construction at times. Cell service is spotty. Be sure to arrive early as the parking lot fills quickly. The park is 13 miles down a bumpy, dusty road from Highway 395. For more information on Bodie, visit the park website.
If you're looking for more ghost towns to explore, check out this list of seven U.S. ghost towns that haven't been turned into tourist traps!
__________________________________________ 
COMING UP NEXT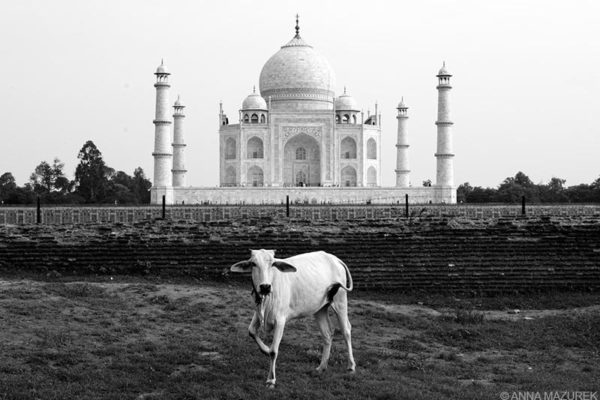 Why You Must Go to India
It is impossible it resist the charm of India. There is no place on the globe as colorful, intense, captivating, heartbreaking or complex. In my next post, I'll dive into what makes India so amazing along with a list of must-see places in the country.
ALL CONTENT © 2017 ANNA MAZUREK