Two weeks ago, I hiked the Lemosho Route to the summit of Kilimanjaro. I've compiled all the main questions about the trek including when to go, which route to choose, what to pack and a breakdown of the costs. In my previous post, I provided a day-by-day breakdown of what it's like to climb Kilimanjaro along with photos.
Best Time to Climb Kilimanjaro

Overall, there are two main trekking seasons: January to March, which is usually colder and quieter, and June to October, which is usually the busiest because of holiday travel in Europe and North America. Snow fall is highest from November to May. December is becoming popular due to holiday season, but it's very cold. March to May is the rainy season, and the worst time to climb. November is also rainy.
Which Route is Best?
I sat down with my guide and interviewed him one night about hiking the mountain. Here's everything you need to know from a guide who's hiked the mountain 150 times.
All of our guides preferred the Lemosho and Macheme routes the best because they have the best weather and scenic views. He says the easiest summit routes are Shira, Lemosho, Macheme and Umbwe, which all summit the same route. Many routes offer an option to add a day to help acclimatize.
The Seven Main Routes to Climb Kilimanjaro 
 
1. Lemosho Route (6-7 days)
Along with Macheme, this has the highest success rate because it's longer and offers the best opportunity to acclimatize. The hike out of the park on the last day is very easy (3 hours) compared to Macheme.
2. Macheme Route (5-7 days)
Macheme is very similar to Lemosho except the first and last days are longer. It offers the same amount of acclimatization. The last day is a full day of hiking.
3. Shira Route (6-7 days)
This route is easier because you drive directly to Shira I camp and start from there, which personally I think is cheating a bit. The hike to Shira I is steep but nothing compared to summit day.
4. Ubwe Route (5-7 days)
This is the hardest route because it's very steep especially the first two days. It offers a very picturesque view of Baranco camp, which is why people choose it.
5. Marangu Route (5-6 days)
This route has huts instead of camping. There are bathrooms but no showers. The sinks have cold water, and they give you warm water to wash your face. You can acclimatize well on the six-day route. The weather isn't the best, and the summit route is more difficult. The route to Keebo Hut is also very dusty. This route is just for people who don't wan't to camp.
6. Rongiai Route (5-7 days)
This route is the easiest and is located by the Kenya border. It's dangerous because of the potential of animals (lion, elephant, water buffalo). It follows the same summit route as Maraugu. It's only a 2-3 hour walk each day and the hardest day is summit day.
7. Mweka Route – Down Route Only
This route is a down-only route. It starts at Barfu High Camp and has two camps – Mweka Hut Camp and High Camp (Millennium Camp on some maps).
Other options: The Northern Circuit Route is the newest and longest route. It follows the Lemosho Route initially then circles around the quieter northern side of the mountain. 
The Western Breech is the most dangerous route and should be avoided. Most high-profile tour operators won't even offer this route. It runs by Arrow Glacier. The route is steep and there's a high risk of rock fall. Three people were killed by rocks here in 2006. The Tanzanian government requires you sign a waiver just to climb this specific route. All the guides hate it.
Kilimanjaro Packing List*  
Clothing
2 pairs of long sleeve thermal tops (I prefer these zip-neck thermals the best.)
2 thermal pants (merino wool or Capilene)
1-2 short sleeve shirts OR 1 long-sleeve wicking SPF shirt
Heavy fleece or down jacket
Fleece pants
2 pairs of trekking pants (These Prana pants are the best.)
Waterproof jacket/raincoat
Waterproof pants (Consider getting insulated waterproof pants.)
Underwear (one for every day of the trek)
Hat & Gloves
Wide brimmed hat
Wool hat that covers ears
Ski mask or balaclava
Lightweight gloves
Wool or down mittens to layer over gloves (This pair was the cheapest I could find.)
Footwear
Hiking books that cover ankle (I loved my Keen Terradoras.)
Camp shoes (I took my old Nikes.)
Shoe bag to carry spare shoes
Hiking Socks (7 pairs)
Gaiters (These were the most helpful on summit day.)
Sleeping Bag
Most tours provide sleeping bags, but I recommend bringing another to double layer because it gets really cold. I wore almost all my layers every night to sleep. Don't forget to bring a travel pillow!
On the Trail  
20- to 30-liter daypack for carrying what you need on the trail (I recommend Osprey Packs for their lifetime warranty.)
Rain cover for daypack
1.5 to 2 liter CamelBak (This will freeze on summit day but amazing the rest of the time.)
CamelBak bite valve cover (Trust me, it's worth the extra money.)
2 – Nalgene bottles (32 ounces)
Sunglasses
Headlamp with extra batteries
Trekking Poles (rent these in Moshi)
Snacks
Other items:
Waist belt for phone (This SPIbelt was the best thing I took on the trip! I always had my phone handy without having to dig it out of daypack.)
Electrolytes (These Nuun tablets are the best! Taste great and only 1g sugar! Lemon Lime flavor is my favorite.)
Moleskin and Band-Aids for blisters
Journal and pen
Extra batteries and phone charger
Ibuprofen
Antibiotics for diarrhea and altitude sickness (Talk to a doctor before your trip.)
Wet wipes & hand sanitizer
Basic toiletries
Hand towel
Passport and money (Keep it with you at all times!)
Dry bags and laundry bag to put dirty clothes
Sunscreen (I recommend a natural stick SPF like Bare Republic.)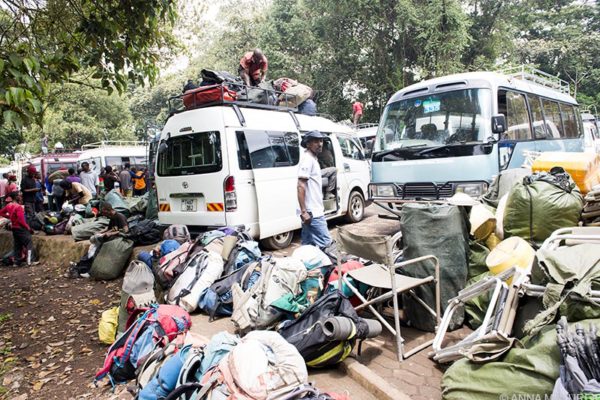 Packing Tips
The more things you can access without taking off your daypack, the easier the trek will be. That's why finally investing in a 1.5-liter CamelBak was the best decision I made. I recommend the bite value cover to keep the value clean. I had two 32-ounze Nalgene bottles for summit day since I knew the CamelBak would freeze.
I managed not to get sunburned thanks to the ridiculous large brimmed hat that I bought and the Columbia Silver Ridge Lite wicking/SPF I wore that shirt everyday almost.
I recommend using packing cubes to organize your bag. Trekking companies provide a waterproof duffel bag for your things. It makes life so much easier if you have packing cubes organized socks, another for top layers and another for meds, etc. so it's easy to find things.
I bought vanilla flavored hemp protein powder to help give me energy on the long days and especially on summit day. It was a huge help.
Every afternoon, I dissolved the Nuun electrolyte tablets in water to help rehydrate. They were a total lifesaver. One to two tubes were sufficient for trek. There's 10 tablets in each tube and lemon lime is the best flavor.
Talk to a doctor about possibly taking antibiotics with you on the trip to help with altitude, nausea and diarrhea. (I got food poisoning 12 hours before my flight home and antibiotics saved me. I also took Diamox for altitude. I took a very, very low dose since I had a bad reaction in India the one year I took it.)
For easy access to your phone for photos, consider this SPIbelt for your waist. I borrowed one from a friend and it saved me.
Most tours provide sleeping bags but consider bringing your own if you have one to double layer. It was REALLY cold and I slept in all of my layers most nights.
Make sure all your thermals are either merino wool or Patagonia's synthetic Capilene. Your socks should all be merino wool. I just bought whatever socks REI had on clearance regardless of the color.
Take a trash bag or shoe bag to pack your hiking boots after the trip. You'll want a shoe bag for your camp shoes during the trek as well. Your shoes will be GROSS especially after the bathrooms.
How Much Does It Cost to Climb Kilimanjaro?
Trek: $1,850
Tips: $300
Flight: $1,150
Visa: $100
Gear: $284.12
Total Cost of Climbing Kilimanjaro: $3,584.12 USD
Trek Cost: Most routes start at $1,600 and range to around $2,000. All treks include transport into the park, guides, porters and cooks. You can't hike the mountain without a guide. Accommodation the night before and after are usually included as well as airport transfers. We paid $1,850 for our Lemosho Route, which is normally advertised for around $2,100. We got a discount because of the number of people in our group and the fact that my friend had used the same company in Nepal.
TIPS: We were advised to bring $250 to tip our guides, porters and staff. I tipped the porters who carried my camera and the gnome individually a bit extra. I arrange this in advance.
VISA: It cost a $100 for a Tanzania visa for me because I'm American. Most countries are $50.
Flight Cost: My flight was $1,150 roundtrip from Houston to Kilimanjaro on Turkish Airlines with a stop in Istanbul. It was the most direct route I could find from Texas that didn't involve more than one stop. Plus, Turkish Airlines is really nice.
Gear: I had a lot of gear and borrowed what I could. I bought two pairs of thermals, lots of socks, electrolytes, CamelBak, a wide brimmed hat and a Columbia long sleeve SPF wicking shirt. I took advantage of the back-to-school tax-free holidays and Labor Day sales so I got a great deal. The gear in Moshi is horrible quality so buy things before you leave. The only exception is trekking poles or gaiters.
For more about climbing Kilimanjaro, check out my previous post that provides a day-by-day breakdown of the Lemosho Trek!
____________________________________________________
*P.S. I am not sponsored by any of the brands or products mentioned above. I have used all the products myself and found them extremely helpful. Please note some Amazon affiliate links are included above. If you click on a link and make any type of Amazon purchase, I earn a small commission with no additional cost to you. I hope you found this post helpful and appreciate your support of the blog. Please email me if you have questions.
What It's Like to Climb Kilimanjaro:
A Day-by-Day Guide to the Lemosho Route
We are insane.
Those were my initial thoughts when I saw the mountain for the first time. I was in the back of a bus riding down a bumpy road toward the Lemosho Gate to start the trek. Kilimanjaro was looming in the distance over a barren field filled with flat topped trees. The greatest adventure of my life was about to begin.
We are insane.
This would be a reoccurring thought over the next seven days as we attempted to summit Africa's highest peak and the tallest free standing mountain in the world at 19,341 feet (5,895 meters).

Why Kilimanjaro?
I found an old bucket list in my phone from 2014. Kilimanjaro was on the list and had been for years. When I was running photo trips in the Himalayas in India, a few of my co-workers had worked in Tanzania and climbed the mountain. After unsuccessfully trying to work in Tanzania and getting assigned other parts of the world, I put Kilimanjaro aside for a while.  A WhatsApp message in June changed everything. One of my best friends half-jokingly invited me to climb Kilimanjaro with her in September. The idea was insane with my current work schedule. I asked the cost assuming it would be absurd. But, it really wasn't as bad as I thought: roughly $3,250 USD ($1,850 plus $250 tips for the trek itself and a $1,150 roundtrip flight out of Houston). I thought the entire trip would be around $5,000 USD! I rearranged my life and made it work.
I'm 36 and not getting any younger. Plus, I am probably in the best shape of my life. When I was working in India, I spent a lot of time at high altitude both camping at 15,000 feet (the same height as basecamp for Kilimanjaro) and driving up to 18,500 feet to take photos without any major issues.  Kilimanjaro is the highest mountain you can climb without the aid of mountaineering gear. It's just plain uphill hiking; there's no ice picks, ropes or crampons. All I had to do was walk slowly for six days.
Still, it was the hardest, coldest and most amazing thing I've ever done. While exact statistics are hard to find, approximately 30,000 people attempt to climb every year and 75% reach the top. Altitude-related issues are the biggest challenge preventing people from summiting.
I've complied a day-by-day breakdown of our trek on the Lemosho route below. For a breakdown of all routes, best times to go and packing lists, check out my Kilimanjaro 101 post. Please note all elevations are from the park signs and hiking times are based on my experience.
Day 1 – Lemosho Gate to Mkubwa Camp
 Altitude: 2650 m/8,694 ft; Distance: 7 km/4 mi; Time: 3 – 4 hours
Our first day was very easy. We left Moshi at 9:30 a.m. to finish gathering supplies for the trek and drove over to the Lemosho Gate. We had to sign in and all the porters' loads had to be weighed since they are only allowed to carry 20 kg/44 lb.
We hiked through the rainforest for a few hours with several monkey sightings including the blue monkey and colobus monkey that has a fluffy black tail with a white stripe that looks like a skunk. We reached out first camp known as Big Tree Camp or Mkubwa before sunset.
We choose a camping route.  All campsites had toilet buildings of some sort, which were normally just squat-style pit toilets.  There were no showers during the entire trek. We got hot water to wash our faces and hands every morning and night except at base camp. I wasn't expecting it to be cold the first night, but it was pretty chilly.
There were five people in our group total including my best friend Becky, a Cincinnati-native living in Tokyo, who organized the whole trek. Two Kiwi girls joined us – Nicci, a diplomat and a friend of Becky's from Japan, and Polly, a data privacy lawyer based in London who is friends with Nicci. The fifth person in our group was a Canadian accountant named Francois from New Brunswick who decided the best way to celebrate his milestone 40th birthday would be to climb Kilimanjaro, which I think is pretty awesome!
Day 2 – Mkuwbwa Camp to Shira II Camp
Altitude: 3,850 m/12,631 ft; Distance: 17 km/10.5 mi; Time: 6-8 hours
It was a four-hour uphill hike to Shira I from our campsite. The rainforest transitioned into the moorlands with short scrubby trees about my height, which made the last two hours of the hike pretty grueling without the shade from the rainforest trees.  I was carrying three liters of water in my backpack, rain gear and not much else. I'd already arranged for one of the assistant guides to carry my camera bag. (My camera body and wide-angle lens weigh about seven pounds and always kills my shoulders during long hikes.)
The main theme of hiking Kilimanjaro is "pole, pole," which is Swahili for "slowly, slowly." I learned this lesson a few years ago in Peru when I hiked the Colca Canyon, the second deepest canyon in the world.
I was grateful for the silly wide brimmed hat and the long-sleeve Columbia SPF/wicking button-down shirt I'd reluctantly bought at REI before I left. While I looked silly, they really kept me cool and saved my skin from the sun. You'll see both in many photos.
After we reached Shira I, we had lunch.  It was another few hours to Shira II, which were fairly easy compared to the trek to Shira I. Our guides planned long days in the beginning and shorter trekking days before the summit to help us acclimate and rest.
Day 3 – Shira II Camp to Baranco Camp (via Lava Tower)
Altitude: 3,900 m/ 12,785 ft; Distance: 10 km/ 6.21 mi; Time: 6 hours via Lava Tower
We hiked four hours from Shira II to Lava Tower, our highest point thus far (4,600 meters/15,091 feet) to help acclimate. It was a much better hike than the day before. We had lunch there before descending to a lower altitude at Baranco camp, two hours away. It's one of the biggest and most scenic camps because four routes (Lemosho, Machame, Umbwe and Shira) all stay in Baranco. Since this is an acclimatization day, some people can be affected by the altitude. No one on our group had any issues. Our guide had an oxygen meter. All of our readings were in the high 80s to 90s.
The trek from Lava Tower to Baranco was beautiful! It was filled with stunning cactus-like trees known as giant groundsel (Dendrosenecio kilimanjari) and even a tiny waterfall. We arrived at camp around 3 p.m., which is a few hours earlier than the two previous days when we arrived at 5 p.m. Sunset is around 6 p.m. It's crazy to think we are only 200 miles south of the equator!
I haven't slept well the entire trip due to jet lag. I've never had jet lag as bad as I have this trip. I regret not flying in two days early to adjust a bit better. The jet lag combined with the altitude meant that most of us were only sleeping from 9 p.m. to 1 a.m. and just laying there in the cold wide awake. Due to all the water we drank and the Diamox (altitude medicine), we kept having to pee in the middle of the night. I started drinking a lot of water in the late afternoon and not drinking any at dinner to avoid midnight bathroom runs. I drank electrolyte mixes every afternoon as well to rehydrate.
Day 4 – Baranco Camp to Karanga Camp
Altitude: 3,995 m/ 13,106 ft; Distance: 6km/ 3.7 mi; Time: 4 hours
Our first task was to climb the Baranco Wall, which looms ominously overhead but actually requires no technical climbing skills. It involves climbing over a few rocks but mostly waiting in line behind the other climbers and porters. We paused at the top of the wall (4,200 meters/13,779 feet) for photos before descending to Karanga Camp. The camp is smaller than the previous and all the toilets are outhouse style. It's super foggy and almost difficult to find the tent on the way back from the bathroom. Karanga is also the last water point before base camp. The porters have to collect water from here to bring to base camp for us.
At every campsite, there's always a group of porters and guides standing on rocks on one of the highest points. Turns out, there's cell phone reception at every camp at high points. I choose to stay unplugged during the whole trip and wasn't even sure if my phone would work anyways.
Day 5 – Karanga Camp to Barfu High Camp
Altitude: 4,673 m/15,331 ft; Distance: 4km/2.4 mi; Time: 4 hours
We had a short hike to Barfu this morning and arrived around lunchtime. We had to wait a few minutes for people returning from the summit to pack up their camps so we could set up ours. We had lunch then napped for a couple hours from 2 p.m. to 5 p.m. when we had dinner. Then, our guide gave us our plan for the night. We would sleep until 11 p.m. then get ready to leave for the summit by midnight. I slept well before dinner but due to nerves and the cold, I barely slept at all before the summit. It was freezing and the wind was pummeling our tent nonstop.
The photo above is for those of you that wondered about the bathrooms. They were all better than most of the bathrooms in the mountains in India.
Day 6 – Barfu High Camp to Uhuru Point (the summit)
Altitude: 5,895 m/19,341 ft; Distance: 5km/3.1 mi, Time: 7 hours
Our alarm went off at 10:30 p.m. for us to get ready. My nerves had prevented me from sleeping. I put on five layers of pants – two Patagonia mid-weight thermals, my Prana hiking pants, a pair of old fleece sweatpants from Target and a pair of $20 rain pants I bought last summer for my Iceland trip. I could barely move in all the layers. My top layers consisted of two long sleeve thermals (one lightweight crew neck and a mid-weight zip neck), a Columbia fleece I'd stolen from my nephew who'd grown it, a Marmot raincoat and an old fleece-lined LL Bean winter jacket I've had since grad school. I wore two pairs of merino wool hiking socks, a pair of gloves with a pair of wool mittens on top of them and a balaclava layered under a wool hat along with both my raincoat and winter jacket hood. Oh, and a ski mask on top of that. My foot and hand warmers really saved me!
Our guides gave us tea and cookies before we left. I brought protein powder so everyone had a few scoops mixed with water. We left the campsite at 12:15 a.m. and started the seemingly-never ending series of steep switchbacks that lead to the first summit, Stella Point. The path was crowded with everyone walking single-file upwards. Headlamps bobbed in the distance as a constant reminder of how far we had to go.
My 1.5 liter CamelBak froze after the first two hours of the trek, which I expected. I had two 32-ounce plastic Nalgene bottles filled with water and stuffed in socks to keep them from freezing. We stopped only a few times to quickly eat a handful of nuts or drink water. I kept switching to new hand warmers. Due to our constant movement, I didn't feel the cold as much as I thought. (It was -11°C /12°F with the wind chill!)
We slowly trudged through the cold for six hours up the steep, sandy switchbacks. Occasionally, we saw a few people being helped down the mountain, but the majority were going upwards. My stomach started to growl because I was hungry. (I'm the type of person who gets "hangry" fairly easily and needs to eats every few hours.) I felt a little weak and tiny bit nauseous but never got sick. All of these symptoms are typical "hangry" behavior for me. Since I ran photo trips in the Himalayas for five years without any issues, I wasn't very concerned about the altitude.  At this point, I was determined to make it to the top no matter what.  There was no way I was walking back down all those horrid switchbacks without having been to the top! (Our guide said he had a 76-year-old women make it to the top a few weeks prior so that was my motivation as well!)
The horizon started to brighten to our right. It was stunning, but I refused to stop to take a photo because we were so close to the top. We reached Stella Point (18,885 feet/5,756 meters) and of course, I had to go to the bathroom. Let me just say that getting those five layers of pants down was literally exhausting at that altitude. (Make sure all your layers aren't as skin tight as mine!) Our guides wasted no time getting us moving to the second and final peak, Uhuru. While it was only 700 meters away, it took us an hour to walk the mostly flat path. I was the second one to reach the iconic brown sign announcing that we'd made it to the top of Kilimanjaro (19,341 feet/5,895 meters)! The one thing that surprised me the most was the mob of people pushing and jumping in front of each other just to get a photo at the sign. I had expected an orderly line, but I assume the rush was to get people to lower altitude quickly. I was still able to get a photo of myself with Alfred at the top and a group photo. (I later learned there was a second sign 10 minutes down the path.)
Everyone in our group made it to the top! (Our route, Lemosho, has one of the highest success rates.) We went back to Stella Peak and took a few photos before heading down the dreaded gauntlet of steep sandy switchbacks. It took me a little less than three hours to get back to camp. I stopped several times to shed layers of clothing. My CamelBak defrosted and started working again. This downhill stretch was probably the worst part because I was exhausted and the hangriest I've ever been in my life. I went back to the tent and passed out for an hour nap then we ate lunch. I felt so much better after napping and eating.
After lunch, we had to trek another four hours to Mweka Camp at 3,100 meters/10,170 feet for our final night on the mountain. By descending in altitude so much, we avoided any issues with altitude sickness. We were all weak and slept amazing that night.
Day 7 – Mweka Camp to Mweka Gate (End of Trek)
Altitude: 3,100 meters/10,170 feet; Distance: 10km/6.21 miles; Time: 3 hours
We woke up at sunrise to sad news. An older European hiker had died of asthma issues on the mountain that morning. All the porters were gathering to help carry the body down the mountain. (There's a series of wheeled carts that resemble stretchers for getting injured people down the mountain.) I tried to find a news story after we got back but can't find anything online about the hiker.
Our hike to the gate and the end of our trek was only about three hours through the rainforest. At the gate, we took photos with the sign, signed the book to say we'd left the mountain and waited to get our official certificates. We were stuck there for over an hour and finally made it back to Moshi that afternoon. They were out of certificates so our guide brought them to us at dinner. (You always have a big dinner with your guides the night you finish
your trek.)
Of course, the water was cold when I went to take a shower the first time so I decided to grab a beer and a snack instead. Afterwards, the water was hot. That beer and shower were probably the best in my life.
In the end, the hardest part was summit day. The rest of the trek wasn't so bad. It's not something I would do twice. I might do Everest Basecamp. Although, it's lower, it involves steeper climbs but allows you to acclimate to the altitude better so it's not as rough.
It took a crew of roughly 20 people to get us up the mountain including 16 porters for our luggage and supplies. We had one main guide, three assistant guides and a cook. These guys are some of the strongest and most amazing people I've ever met. They would totally survive a zombie apocalypse. I trusted them with my life the same way I trusted my guides and drivers in India. They know the mountain better than anyone and earned my respect.
__________________________________________ 
COMING UP NEXT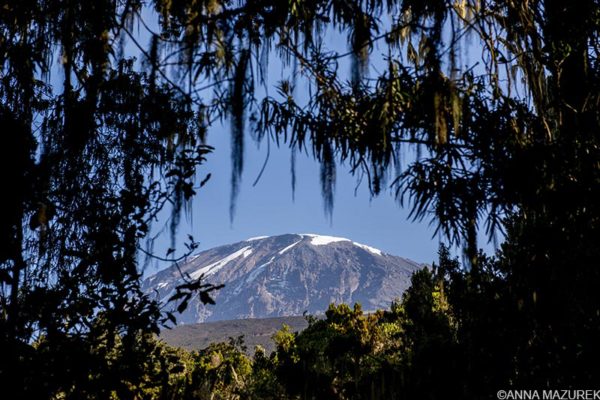 In my second Kilimanjaro post, I breakdown all the details about the trek including the cost of my trip, when to go and a list of the main routes. I also provide a detailed packing list based on my experience and offer suggestions of what to buy.
__________________________________________ 
P.S. I am not sponsored by any of the brands or products I mention in posts. I only recommend products that I love. Please note some Amazon affiliate links are included above. If you click on a link and make any type of Amazon purchase, I earn a small commission with no additional cost to you.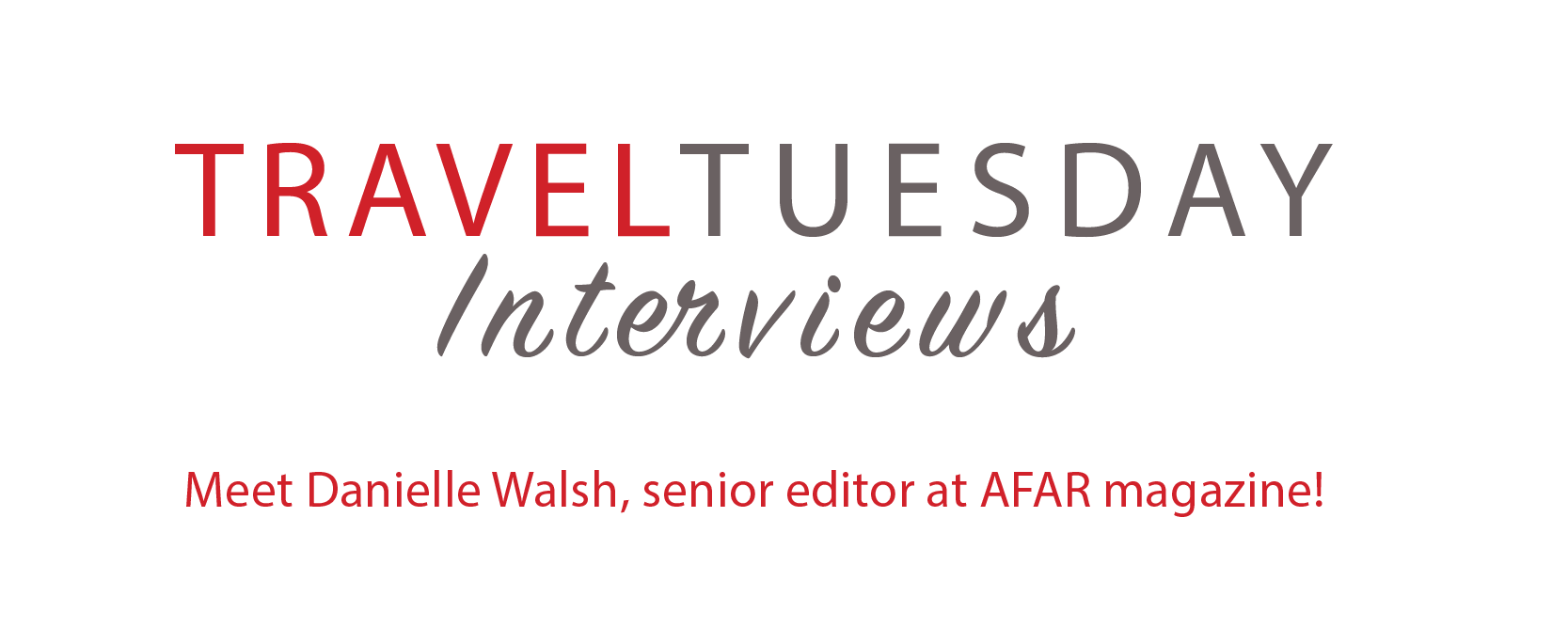 In this week's Travel Tuesday Interview, I chat with Danielle Walsh, senior editor at the San Francisco-based travel magazine, AFAR! She dishes all the details on the Bay Area's best eats and shares some of her drool-worthy Instagram photos. Danielle is one of my editors at AFAR and has one of the best food-based Instagram accounts out there!
Name: Danielle Walsh
Age: 28
Hometown: Boston, MA
Country count: 11
Instagram: @wandereatrepeat
1. How did you start traveling?
My first adult international trip was to Italy, but I feel like I wasn't truly a traveler until I went to Istanbul. That city is so intoxicating. The smells, the gorgeous architecture, the palpable history—it's sensory overload. It made me crave experiences that got me out of my comfort zone. I remember wandering into a subterranean antique shop in the Ortakoy and meeting its owner, a man who was roughly in his early 50s. He didn't speak English very well, so he went around the corner to find a neighbor who did, and translated our conversation. He told me his daughter was attending Harvard. He was delighted to find out I was from Boston. It was one of those travel moments you can't plan or pay for!
2. What single dish best represents the city of San Francisco? And, where can we get it?
Zuni Café's chicken with bread salad. It's a classic. I've been saying lately that San Francisco is the chicken capital of the country because of the many restaurants that have excellent chicken dishes they're famous for.

3. What are three iconic places everyone must eat on their first trip to San Francisco?  
A great, no-fuss taqueria (La Taqueria or El Farolito), Nopa for a fancier dinner, and Cotogna for some of the best pasta around and the fantastic approachable wine list. Bonus points: Drive up to Point Reyes to go to Marshall Store or Hog Island for oysters.
4. Share some tips for eating on a budget in San Francisco.
San Francisco has so many awesome fast-casual places to eat. My personal favorite is Souvla, a Greek spot that specializes in homemade wraps and salads with delicious roasted meats—all washed down with affordable Greek wine. Another great spot is Media Noche, which has the most delicious Cuban food on this coast. Recently opened is RT Rotisserie, where you can get sandwiches and rotisserie chickens. I think SF has really figured out how to make the affordable counter-order restaurant super special. Also, many restaurants have no-corkage nights—one of my favorite spots that's mostly filled with locals is Zazie. Tuesday nights, you can bring in as many bottles as you can responsibly drink. The food is great, and they have a lovely back patio area.
5. What are your three favorite places to eat in the city right now?
Tartine Manufactory. Believe the hype. It was the most interesting meal I've had in San Francisco to date.
Flores. It may seem flashy and big-production, but it's a take on Mexican food that's just really good and exciting.
Nopa. It's always nailing it, whether it's brunch, dinner, or late-night eats. I recently went there after a concert and happily scarfed down its $20 burger and a sour beer from Russian River Brewing Co.
6. What local ingredients would you pack for a picnic in Golden Gate Park?
Cowgirl Creamery Mt. Tam cheese
Any loaf of bread from The Mill
Scribe Winery's 2015 rosé
7. Share one of your favorite culinary adventures in the city.
Eating, drinking, and shopping your way down Divisadero street. Many of my previous recommendations can be found there.
8. What's the biggest myth about San Francisco?  
That it's not walkable. It's only 7 by 7 miles and has some of the most beautiful streets and parks in the country! On the weekends, I'm always walking to wherever I need to go—hills and all. My fiancé and I call it "urban hiking" and that way, we can totally justify our weekend gluttony.
9. What are two of your other favorite food cities?
New York. I used to live there and just love its dining scene vibe. People really dress up for dinner there. Here, people roll into a tasting-menu dinner in yoga pants and Warriors jerseys which makes me LIVID. Plus, it's home to Roberta's, my all-time favorite restaurant.
Ho Chi Minh City. I could live off of Southern Vietnamese street food—spicy beef noodle soups, namely—for the rest of my life.
10. What is your next adventure?
My honeymoon! Thinking Fiji and Hawaii. For once, we're not traveling for the food—we're traveling to be far, far away from everything after the craziness that is planning and executing a wedding.
__________________________________________ 
COMING UP: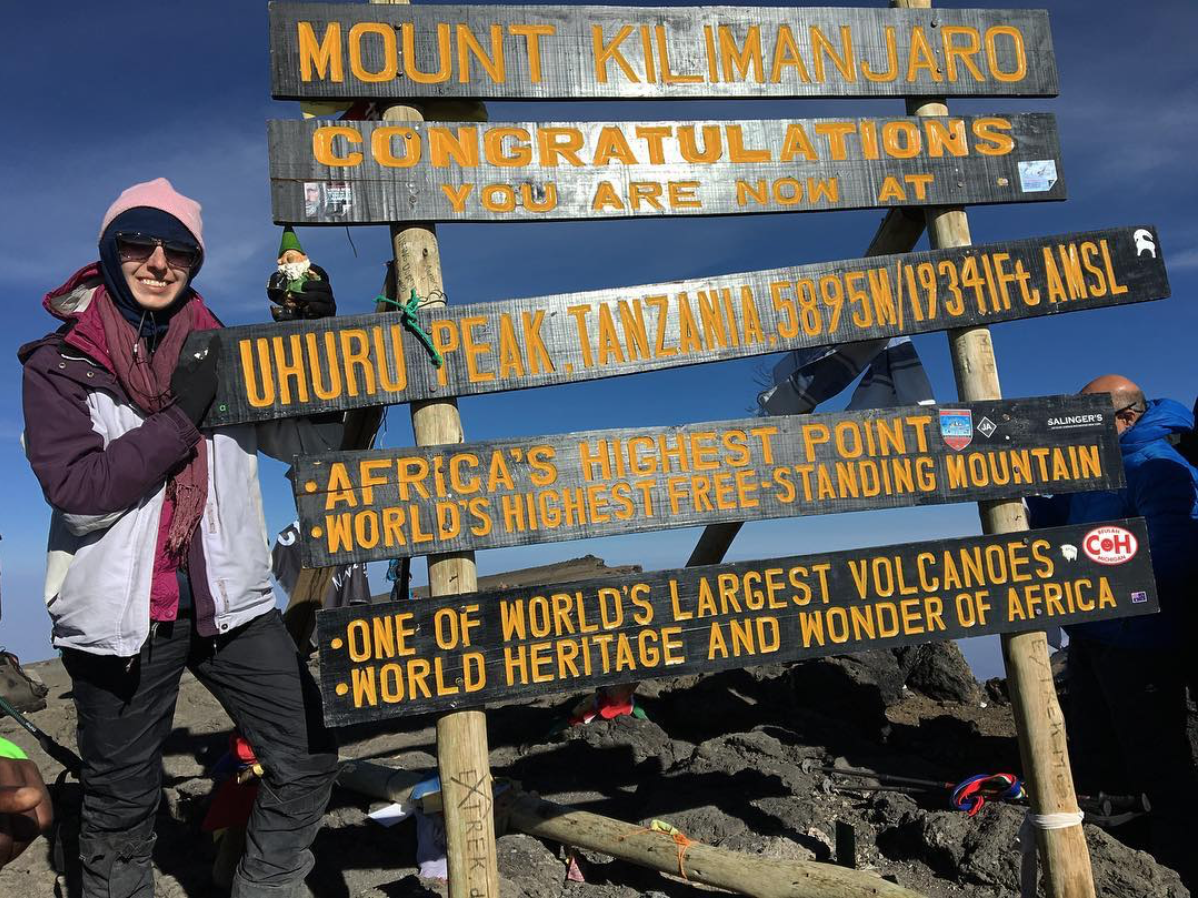 What It's Like to Climb KILIMANJARO
I just got back from climbing Kilimanjaro! I'm currently working on two detailed posts about my journey: a day-by-day guide to the trek and how to prepare for your own journey.  (I'm headed to Santa Fe and Albuquerque this weekend for the hot air balloon festival and to go hiking! Follow along on Instagram!)
ALL CONTENT © 2017 ANNA MAZUREK