Since I'm on the road for all of 2018, I'll be starting a short-term journal series about life on the road starting with the South American Diaries. I'll post monthly "diary" entries about my journey across the continent for the next three months along with other content.
Winter is a choice. This year I chose wisely and booked a one-way flight to Argentina in mid-January. I belong in flip-flop weather.
Buenos Aires is my home base for the next month. I fell in love with this city on my first trip in 2015. It is intoxicating. It feels like a Latin Europe sprinkled with a bit of third-world charm reminiscent of Havana. It's the middle of summer, but there's low humidity. Plus, it never gets above the mid-80s. There's very few mosquitos.
This city never sleeps. People don't eat dinner until after 9 p.m. at night. They go dance tango until 5 a.m. Siesta is a thing here. Many restaurants close from 2 p.m. to 8 p.m. daily.
The culinary scene reminds me of Europe – breads, pastries and tons of steak. The fresh fruit is amazing and cheap. I've started a quest to find the best empanadas and craft breweries in the city. (More on that in my next post!) Even though you can drink the tap water (I do), many locals don't. Aside from the threat of pickpockets, the city is relevantly safe.
The people always make the place. I fell right into an amazing and diverse friend group including folks from Venezuela, a few local porteños, which is the term for people from Buenos Aires (BA), and several other Americans. The majority of the folks in our friend group are digital nomads, which means we have all either built business or lives that allow us to work remotely from any corner of the world. It's very rare in life that you meet people who truly understand you.
Our friend Raul, who grew up in BA, invited us to dinner at his parent's house the first week I was in town for an asado (barbecue). The dinner started at 8:30 p.m. and lasted until almost 2 a.m. on a Monday night! It felt like a five-course meal – seasoned eggplant appetizers followed by salad and tender beef with potatoes. The meal ended with ice cream with waffle cones his mom had picked up right before dinner from the ice cream shop around the corner.  There was more wine, beer and soda than all 10 of us could drink! After dinner, the three musically talented folks in the group played guitar or ukulele. (Wonderwall by Oasis is by far the most universal cover song that everyone knows!) Afterwards, Raul and his dad walked us to the bus stop. That night is what travel is all about.
Another highlight is the night I walked over to the planetarium with four friends to take night photos. Turns out, 400 people had the same idea! The place was packed for the nightly light show. The weather was a perfect 75 degrees with low humidity. There's nothing better than being in a place where you can drink wine in a public park in great weather with awesome people.
I rented an apartment with one of my best friends and fellow digital nomad, Tokyo Becky. The goal of this month was to focus heavily on freelance projects and start writing my newest venture – a self-published eBook that I mentioned in my previous post that outlines my financial philosophy and habits that allow me to save half my income, have no debt and travel nonstop. I'm spending my days split between work and exploring the city. I try to do at least one new fun thing a day to make the most of my time here. Some days are spent exploring more than others—checking out the museums, my quest for the best empanadas and craft beer in the city, $5 tango classes and taking day trips from the city.
After my time in Buenos Aires, I'll head to Uruguay, Chile and Colombia.
Every single moment of life abroad is an adventure from walking down the street to trying to book flights through a local airline's website in Spanish. (Trust me, this last one is hilarious.They hate Chase credit cards!)
A few random observations on life in Buenos Aires
The only thing I don't like about this city is the mystery water. When I walk down the street, I keep getting hit by droplets of mystery water, which I later realized was coming from the window air conditioning units that are prevalent here.
The women in Argentina are obsessed with platform shoes. In 2015, I thought it was the trend that season but it's actually just ingrained in the culture. Many of the women are short and wear 3-4 inch platforms daily. Even with the platforms, they are still shorter than me. I'm only 5 '6"! I haven't seen a single girl wearing regular heels.
Spice isn't a thing here. I decided to make breakfast tacos for dinner and searched the entire grocery store for salsa. The closet thing we found was Tabasco. Black beans are also hard to find.
The subway trains usually have a street vendor on them selling everything from sewing needles to gum. They walk around and put one of each item on everyone's lap. Then, they come back around to pick it up. If you want it, then you pay but otherwise, you give it back. It's the most hilarious thing because people just let the street vendor just put the item on their lap even though they don't want it. There were two little boys walking around selling Minion valentines cards.
You get a 15% discount when you pay with a credit card at certain grocery stores on weekends. Why is this not a thing in the US?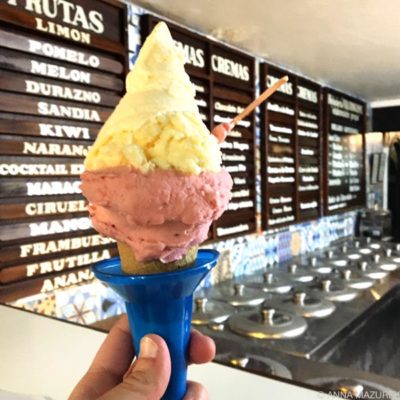 Ice cream is an art form here. There are usually four options for cones—a regular sized waffle cone and three tiny sugar cones that decrease in size and price. The smallest cone is less than two inches high, but they pile on the ice cream almost three times the size of the cone!
I got stuck on an elevator with 11 eleven people the other night between two floors in my apartment building. Luckily, we were only stuck for about five minutes before the security guard pried the door open and we climbed out. (The weight capacity for the elevator was 12 people, and we had 11 tiny people.) I'm convinced that we would have been stuck for hours if it wasn't for the fact that there was three bottles of wine on the elevator with us!
One of our American friends here got the phone call that every person on the planet dreads—a family member received some devastating health news. He flew back to the States shortly after. On our way home from his goodbye party, the mood was somber. I chatted with the other Americans about the sad situation. We all agreed that we were grateful to be traveling now because you never know what will happen in life. We could all get the same call one day but were glad we had decided to embark on our current adventures and digital nomad careers now instead of putting our dreams on a shelf to get dusty with age. Bottom line: Life is short. Live NOW.
That's all for this edition. Sign up for my email list to be notified for the next edition of the South America Diaries! (You can sign up in the sidebar on the right side of the page!)
__________________________________________ 
COMING UP NEXT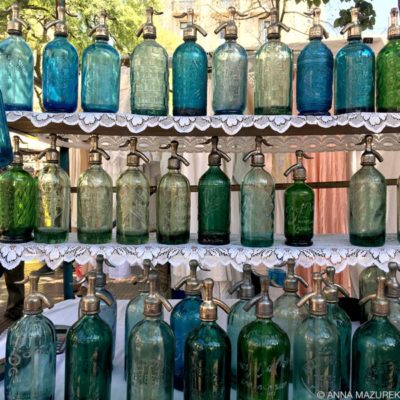 Photo Guide to Buenos Aires, Argentina 
In my next post, I'm working on a city guide to Buenos Aires! I'll write up a summary of all the highlights to the city include where to eat, drink and visit!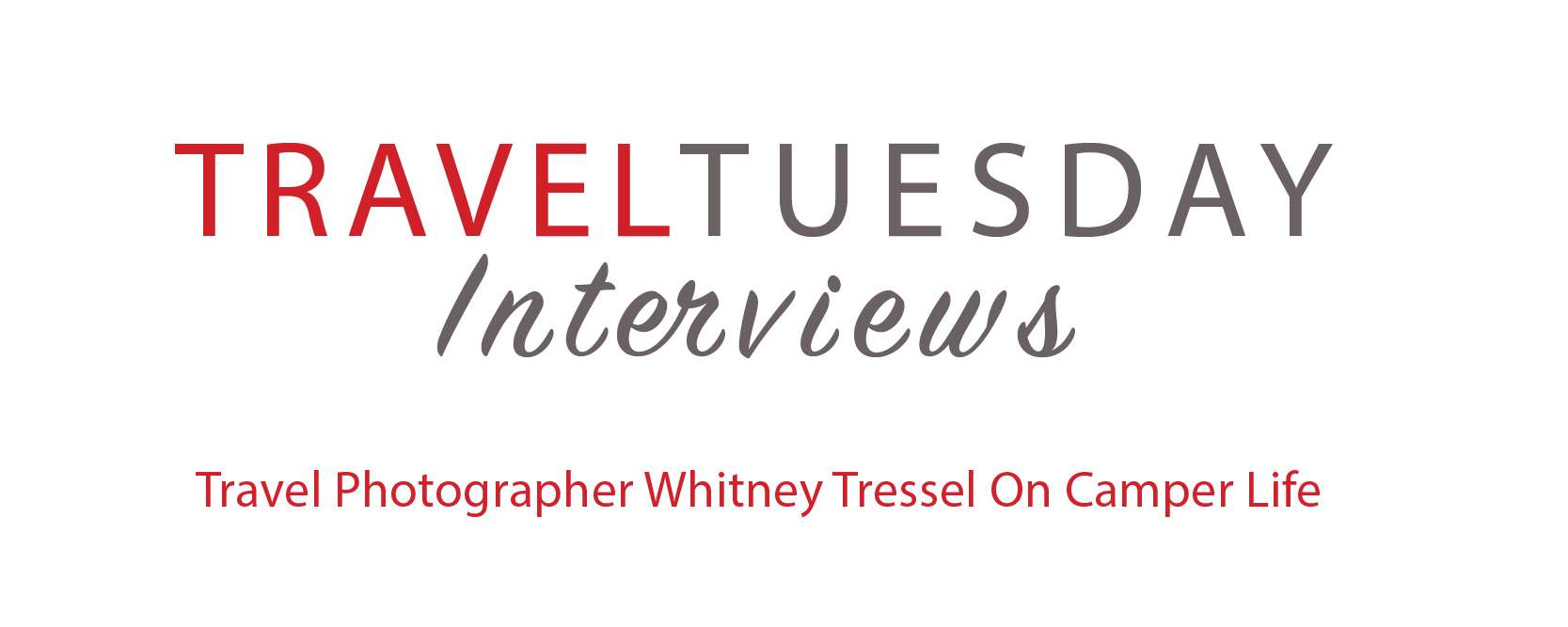 In this week's Travel Tuesday Interview, I chat with travel photographer Whitney Tressel about camper life. After nine years of working in New York City, Whitney bought a camper, which she aptly named Penny Lane, and hit the road full-time eight months ago. (Whitney was one of my editors at Google and Budget Travel.) She discusses the pros and cons of camper life and how she balances work on the road!
Name: Whitney Tressel (& camper Penny Lane!)
Age: We're both 32.
Hometown: Youngstown, Ohio
Country count: 32
Blog/Website: @whitneytravels & whitneytressel.com
1. How did you start traveling?
I traveled a ton as a kid, it became part of my nature early on. My dad coached football, and my family would often support him by traveling to playoff games in far-flung U.S. spots such as Missoula, Montana and San Luis Obispo, California. We once tried Christmas in San Antonio, Texas and have spent many New Year's Eves in Tempe, Arizona. The first time I traveled outside of North America was at 20 years old when I studied abroad in the south of Spain. I lived with a Muslim family whose only English words were "purple plum" and took art and history classes in the Spanish language, having only basic classroom knowledge of Spanish at the time. I had never felt so helpless, panicked and lost in the beginning, but leaned into the discomfort, persisted to find joy and opportunity in each day, and eventually departed the country four months later nearly fluent and missing those paella Sundays.
2. Tell us about how you ended up living in your camper and traveling full-time.
Living in a camper full-time was never my dream. I'm often sidelined by folks expressing to me that I'm living their [dream], but for me, it was a pretty natural decision. I'm a travel photographer and road trip producer who was rarely in my New York City-priced apartment, so I thought, "why not live on the actual road?" When I transitioned in the Spring of 2017 from a wild and fulfilling nine-year stint in NYC, it was hard for me to pick where to go next. The paradox of choice. I thought Denver, Pittsburgh, Austin, Los Angeles… but none [of these cities] felt quite right at that time. I figured I'd just buy a cheap camper and explore many places rather than just one. After all, I can theoretically do my job from anywhere. It's not nearly as glamorous as #vanlife makes it look, nor as freeing as I expected, but it's definitely a special way to live. I love the mode of transportation, sometimes even more than the destination I'm headed to. Planes, trains, and automobiles alike, I now get to live in my happy place, literally. I'm used to small spaces, know people all around the country, and have already been to 49 of 50 states before this adventure (ah, elusive Alaska!). A friend recently described me as, "a professional traveler" which I never really thought about and now identify with that descriptor even more so than "professional photographer."
3. How are you balancing work and travel? How are you finding work?
Balancing work and travel is difficult. I totally see why people save up a bunch of money and choose not to work at all for a period of time. It's so hard to keep up with basic needs such as clean water, safe places to sleep, personal hygiene and work deadlines. I definitely work less than I did in New York, expectedly, but what I didn't expect was how challenging and time intensive it would be to get simple tasks done. Finding electrical outlets and wireless internet proves to be tough, and varies in every city and state. My work has mainly come from clients I've previously done freelance projects with, such as Google and National Geographic Student Expeditions and Budget Travel, but I've acquired a couple of new clients like Samsung and WeWork, for example, which have been fun to work with this year. I will continue the balancing act in 2018, but I have a feeling balance is a lifelong test whether one is in a camper or not…
4. Share one of your travel highlights from camper life.
The surprises! Arriving after dark somewhere to set up camp having no visual idea where you are is certainly unnerving, but it is so thrilling when you wake to an unexpected, breathtaking scene. That always reminds me of one of the reasons I'm out here: to feel alive and to discover. But can I pick a second highlight? The people. They are a surprise within themselves. One of my heroes Brene Brown says, "People are hard to hate close up," and that could not be truer than on the road. The country doesn't look so kind right now from a broad view: from the couch, from social media feeds, from the he-said and she-said, but up close, qualitative and face-to-face, people from every background, race, spiritual belief, political stance, gender and age are so innately kind, and also very much alike. That is another reason why I decided to be in the camper in-country, rather than [go abroad]. I want to experience all of the United States, this time post-divisive election, in detail and in person. So far, for the most part, I've found that strangers have been a bottomless well of generosity. Being in a vintage vehicle, I've definitely had problems along the way, and if it weren't for those whom I call the "angels of the road" I'm not sure I'd still be so keen on this camper life.
5. How does the cost of living in a camper compare to living in an apartment?
It depends on where said apartment is. New York? Camper life is much cheaper. Ohio? Hmm, comparable at times once you factor in initial cost of the vehicle plus poor gas mileage, occasional campsite fees, and surprise mechanical issues. The cost of living in a camper also differs between which state I'm in, and proximity to a metropolitan area, and whether I'm on assignment or not. For example, it's trickier to cook for one but cooking is definitely more cost effective and healthier than dining out. I'm probably spending similar amounts socially as I was in New York though, adventuring out with friends so much so that I have very rarely felt lonely. My propane tank is cheaper than apartment heat, but I'm colder. Water is free but you have to make time for it. No electricity bill, but it's hard to come by…
6. Can you share a few budget tips for keeping costs low?
Having the right credit card for what you are up to is essential to all kinds of travel. I have Chase Sapphire Preferred which gets me 2x the points on travel-related purchases and dining. A gas card would be smart too, to rack up those gas points. The resource freecampsites.net is handy for free or reasonable night stays, it has both user-generated and vetted content just like Google Maps. I'm a Good Sam member which gets me 10% off Good Sam campsites, and that's who I go through for my camper insurance. Apps like GasBuddy tells you where the cheapest gas is according to where you are. I keep all my receipts for tax relevant write-offs because most purchases are essentially going towards my work, assignments, enhancing my portfolio, and supporting my projects. What projects you ask? That is to be determined. I'm enjoying living a said project first, rather than pigeon-holing myself into a specific one, and then afterwards someday we'll see what comes of it…
7. What was your greatest struggle with the camper, and how did you overcome it?
On a superficial, yet honest, level: I had trouble adjusting to the inconvenience of it all. I'm not used to making sure I stop drinking water a few hours before bed as to not have to pee in nature in the middle of the freezing cold night. Nor filling my water bottles almost every time I stop for gas, just in case I end up in a remote area. Checking the oil at every filling station is new to me but not new to my 1985 Toyota Dolphin. Ever-so-thoroughly washing dishes and containing food upon entering bear country is a new habit. I also wasn't used to not showering for a while at a time, nor having no heat at night, or no air conditioner in summer, unless plugged in. I wasn't used to not being able drive much faster than 65 miles per hour, or much more than 250 miles per day. I've overcome the inconveniences and adjusted to slower paces by practicing being more present, patient, aware, and grateful. A work in progress!
8. What advice would you have for aspiring travelers who want to live the camper life?
Be nimble. Observant, flexible, patient. And: do it! Why not? A "normal life" will always be there to catch you when you want to go back to it. Don't be too idealistic. Instagram is not completely accurate, and yes, this includes my posts. This is a lifestyle that is as remarkable and special as you want it to be, just know it also comes with challenges out of your control. I went through a long stretch of time where the most miraculous things would happen to me every single day, followed by or preceded by something so disheartening. It was so hard to adjust to that because I couldn't predict anything good or bad as much as I tried. It was a roller coaster, and maybe that'll keep happening. In fact, I'm certain it will! Such is life on the road. The perspective that saved me from going insane in the thick of it was when I went to a yoga class in Portland, Oregon. The instructor gave an insightful lesson on how things in life don't happen to us, they happen for us. Mind = blown. I can't say my daily life is not still tumultuous, but in shifting my mindset that these simultaneously miraculous and disheartening moments are happening for me, rather than to me, has changed the game completely.
9. What are three things you always pack for a trip?
Outside of the obvious items such as a toothbrush, undies, phone charger and my camera:
International: Copies of my passport, credit cards and emergency contacts. You never know.
Tent camping: A headlamp. Bear spray.
Anywhere but tent camping: Essential oils, such as lavender and rose, calm me down and help me sleep almost anywhere. They freshen luggage, double as perfume, and change the vibe of any given space.
10. What is your next adventure?
This is the best part, and a recurring theme of the past 8 months: I DON'T KNOW. I started 2018 in Los Angeles and just helped the Women's March crew produce social content for the #PowerToThePolls anniversary rally in Las Vegas in January. I am headed to Puerto Rico in February to produce videos to encourage volunteer tourism as it bounces back from Hurricane Maria, and I hope to explore some national parks in Utah come March. I plan on leading my eighth trip with National Geographic Student Expeditions this summer, keeping up with my vow to experience at least as many countries as my age. Ultimately, my next adventure is to expand my energy and reach into more activism to use my skills for good.
__________________________________________ 
COMING UP NEXT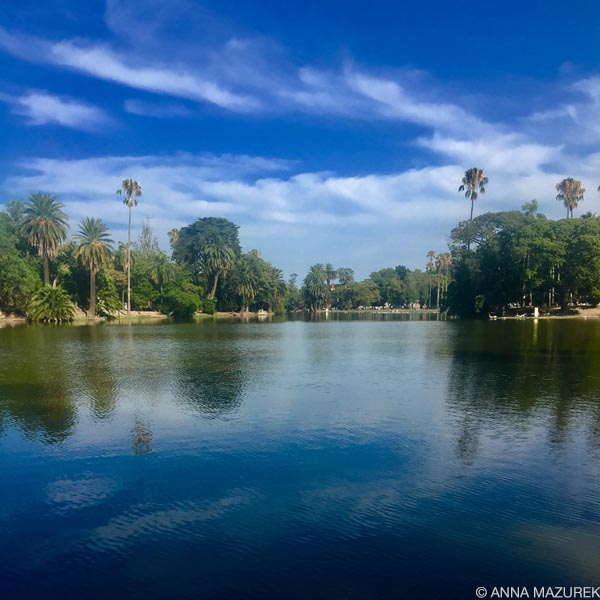 The South America Diaries

Last week, I started my year of traveling with a one-way flight to Buenos Aires, my home for the next month. To document my adventures, I'm going to start a short-term journal series focused on documenting daily life as a full-time traveler to provide an honest, transparent vision life on the road. I've also go a packing post in the works with a breakdown of EVERYTHING I packed for this trip. Follow along with my adventures on Instagram and Twitter!
"And then, there is the most dangerous risk of all – the risk of spending your
life not doing what you want on the bet that you can buy yourself the
freedom to do it later." ~ Randy Komisoar
My New Year's resolution is always the same: Travel More!
I'm LITERALLY spending all of 2018 on the road. Life's too short to NOT do the things that make you feel alive and nothing make me feel more alive than traveling!
This isn't my first long-term trip, but this time I'm doing things differently.
In the past, I worked hard, saved money, quit my job and traveled for months on end. My money would run out, and I'd come home. Then, the cycle would repeat. Each trip lead to more work that helped build a career and jobs that paid me to travel.
In May, I quit everything that wasn't moving me toward my career and travel goals, which I wrote about here. I officially went freelance full-time, which is something I haven't done since 2008 when the economy tanked. (More on that experience here.) I've had enough work to do it but was just fearful. (2008 left me with a bit of PTSD.)
When I got back from my 8-month South America trip in the summer of 2015, my savings account was totally dry thanks to all of my electronics deciding to die on the trip.
This time things are different. Since then my savings account is higher than it's ever been thanks to the endless stretch of 12-14 hour days I've worked for the last 2.5 years. (It's currently at $49,450.37, which is easily enough money to live really, really well for two or three years in Asia. Keep in mind this is my savings AFTER throwing down a heavy chunk of change to go to Iceland, Kilimanjaro, Key West and countless road trips the past two years. Plus, I had to put new tires on my car, replace my timing belt and fix my transmission leak.) I'm good with money so saving has always been easy for me.
This time, I'm ending the cycle.
This time, I'm entering the digital nomad world, where travel is my full-time job. I've spent the last three years building up a diverse network of freelance clients to sustain me while I travel. Most of my freelance work is doing both writing and photography for publications. I also do corporate photography. In the summer, I manage photo trips for high school students and recently started teaching online for a university in Texas instead of on campus to allow myself to be location-independent. My goal is to make enough money to live on so I don't have to touch my savings.
Now, let's chat about my 2018 travel itinerary:
I kicked off the year visiting my family in South Carolina. I'm typing this from Austin now where I'm wrapping up some freelance projects.
On Friday, I board a one-way flight to Buenos Aries, a city I fell in love with in 2015. My main goal is to escape winter. There's nothing that makes me grumpier than cold weather and being hungry. (My friends will vouch for both.) I belong in flip-flop weather.
I rented an apartment with one of my best friends for a month. My goal is to hunker down and start my first e-Book project to help answer the question "How do you afford to travel so much?" that outlines my financial philosophy and habits that allow me to save half my income, have no debt and travel nonstop.  (If you are interested in this project and want to help out, answer these four short questions to let me know what topics you'd like me to cover!)
After Argentina, I head to Chile to explore the parts I missed in 2015 including Easter Island. (Imagine the gnome photo possibilities!) Then, I fly to Colombia to do The Lost City Trek and meet up with a few friends in Cartagena. I'll be traveling slowly and working as I go.
In May, I head back to the States for an EPIC hiking trip with friends. (Details to come later.) I'll be riding camels across the Gobi Desert in Mongolia this summer. I head back to Texas again for a month for a freelance project in September. When the weather starts to cool down, I'll make my way to Southeast Asia to spend the winter. I refuse to come back to the U.S. until at least March when it's warm enough for flip-flops.
The blog structure will change a bit since I'm traveling full-time (finally!). I'll be documenting my spending and keeping a journal of life on the road. I'll still be posting travel guides and interviews with experts. Click here to tell me what you want to hear more about this year!
I hope my adventures inspire you to book some flights. Life is short. Do what you love.  Follow along on Instagram and Twitter!
ALL CONTENT © 2017 ANNA MAZUREK