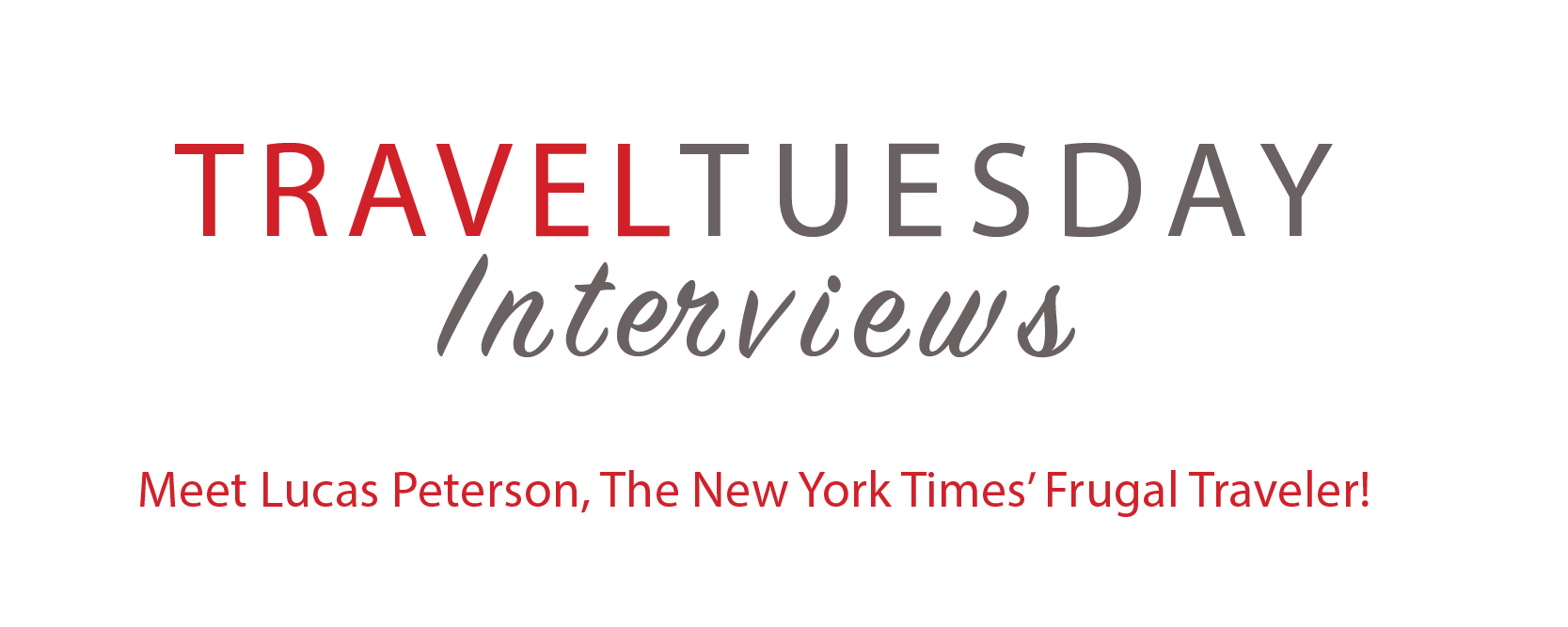 In this week's Travel Tuesday Interview Series, I chat with The New York Times' Frugal Traveler, Lucas Peterson! Peterson has been dishing budget travel advice since he took over the reigns of the column an year and half ago. He discusses his favorite food cities, his travel highlights and his travel budget philosophy.
Name: Lucas Peterson
Hometown: Oak Park, Illinois
Current home: Los Angeles, California
Country count: At least 30
Website: nytimes.com/frugaltraveler
Twitter: Lucas Peterson, Frugal Traveler
Instagram: StaleTwizzlers
[This interview was conducted over the phone, transcribed and edited for length.]

1. How did you start traveling?
I was lucky enough to travel a lot when I was a kid. My parents frequently traveled for work. When I was kid, I got to tag along on a couple of trips [including Egypt and China], and I think that was the what inspired a love of travel when I was young
When I was 16, I was an exchange student. I lived in Netherlands for a year. Then, I lived in China when I was 19. I got a job at a hotel there and worked there for a year.  I did The Peace Corps in Central America when I got out of college. I've sort of always liked it. It's always been an interest. I have my parents to thank for that.
2. What does your average work day look like as the Frugal Traveler?
Man, it depends on the day. Imagine a little flow chart, then you go down a certain path where the first question is "Are you on the road?" Yes or no. If yes, then things are a little more busy. Obviously, I'm in a place with a limited amount of time on the ground, trying to go see things and have as many different experiences as I can. Then, very aggressively taking notes wherever I go. Those days are busy. I have very busy stretches of time when I'm on the road. Then, also, usually I'll try to piggy back trips on top of the other.
I live in L.A. so if I go to Europe. I'm not going to go Europe for one story. I'm going to try to get a few different stories out of a trip. Usually, I'm going to a couple different countries. Then, if you combine that with having to be filing stories from the road, which I frequently am, then, it gets really busy. So, I will be out all day working and stuff. Taking notes on stuff, traveling around, then trying to have the notes in order and getting back to wherever I'm staying. If I'm staying at a hotel and then, [I'm] trying to write a story about a place I was at some months ago, which is tough. I get confused especially if [I am] in a totally different place. Those times can be pretty tough.
When I'm not traveling, sometimes I have days that are pretty free. But, I'm still filing stories when I'm at home. I'll typically have a story I'm writing every week. When I'm writing a story, then there's different rounds of edits. I do have other freelance writing obligations. I do a video show. I do a food show for a site called Eater. Every now and then, I'm shooting that show as well.
That's the long answer. The short answer is It depends to the day.
3. What is your average daily budget for traveling?
There is no budget. It's funny. The reason why [some publications] don't give a budget is they don't want people spending up to that budget. They sort of trust me to keep costs low and under control. I'm pretty good at finding deals and stuff. It's interesting, no set budget.
If you're traveling on your own budget, would it be the same?
I don't have super luxurious tastes so it's never really been an issue. If I were on vacation for myself, I don't know. It would depend on where I was going. If I book a flight, I feel like a $1,000 is some arbitrary magic number for going to a place roundtrip. If I could spend a little more, get a better route, a nonstop or if I could save a ton of money…make two stops and add 15 hours to my trip, would I do it? Maybe I would.
I don't operate necessarily as far as dollar figures. There's no real magic numbers in my head at least when I'm traveling.
4. Can you share your top two tips for traveling on a budget?
Everyone sort of has a different set of needs and desires when they travel for fun. One [thing] that I like to do for fun anyways is I go to Google Flights, and I plug in some dates. And, then, I just look at map of world, and I look at prices. I like to see where can I go. Where can I possibly go and how much would it cost? It's a good way to get the lay of travel land. If you're saying to yourself, "I have a week in September."  You put that into Google Flights, and you leave the destination blank, and you can see everywhere you can possibly go and how much it will cost you.
It's a super good way of getting sense of what's possible and what's out there. It really depends on the season. It really depends on where you want to go.
If you want to go to Paris in June, you're going to pay. There's no real way around that. You are going to pay in a range of prices. You're not going to find a deal, whereas, if you go in September you [could] go for extremely cheap. When I travel, I like to use the bargain sites. I like to do the bidding sites like Priceline and try to find deals. Hotels.com had a thing where you would buy a $50 gift card for $40. [I'm on top of] where you can save $10 or $20 here and there.
I like to eat cheaply. I like to eat on the street depending on where I am. If I'm in Peru, and there's someone making delicious looking juice on the street, I will not hesitate to drink it. There's certainly risks involved. But, I love to eat on the street. It makes the connection between you and the place. You get a real sense of what it's like to live there. You are interacting with people. The other benefit is that it's super-duper cheap.
There's no real secret.  I mean there's no one cool trick to get super cheap travel. It doesn't happen. The more time you spend monitoring airfares, at some point, the law of diminishing returns comes in. You aren't exactly going to get a killer deal on a flight to London because it's hard. Your time is better spend thinking about what you are going to do on the ground.
5. Give us your picks for the three best food cities.
It's hard to beat China. I've spent time in Hong Kong, Shanghai, Beijing. It goes without saying that you have to like Chinese food.Paris is amazing. Do you love pastures and dairy? Yes, then you'll love Paris.
I spent some time recently in Southern Spain and Portugal, and the food there is top notch. It is also super-duper inexpensive. I also really just love the culture there.  You have a little snack and cup of wine for a 1.50 Euro and then, you walk around for a few hours. Then, you have another snack with a glass of beer. And, it's all pretty cheap. There's this culture that every few hours you have a glass of wine and a little snack. I really loved eating there. Then, I was just in Lima, and they have incredible ceviche.
It's hard to pick three. I'll pick China, Southern Spain and Portugal, and Paris. And, Lima.  I'll pick four.

6. Name a few of the best budget friendly destinations.
A lot of Europe is very accessible right now. A lot of it depends on getting down there. Once you are there, things are great.  It's just sort of an issue of finding that airfare. So, obviously, I did just got back from Peru, which I wholehearted recommend. It was super good. Just a rich country as far as geographically. You've got Lima on the coast, which is also sitting on the edge of desert. You've got Cusco in the mountains and if you go up to Iquitos, [you've got] the Amazon. It's easy to pop around when you're there.  There are local air carriers. I never had any problems getting around. The ceviche is really good. I took like a surfing lesson, which was super fun. That's one place that I love.
As far as cheap airfare, it seems like Iceland is the inverse from everything I've heard. I've never been, but from what I've heard, it's extremely cheap to get there and once you're there, it's expensive.

7. Share one of your travel highlights.
In my life, I got spend about a month traveling in Syria and Jordan when I was in college [in 1999]. They were both beautiful. Jordan was beautiful. The desert scapes, going to Petra and spending the night in the desert in this tent was a fantastic experience.
Going to Syria. We went to Damascus and Aleppo. Those are the two most beautiful cities I've ever been, too. The people were kind, the cities were fantastic, and the food was great. It totally breaks my heart that we can't go back, at least anytime soon. And, Aleppo is gone. That will always be a wonderful memory for me. 
We had a guide showing us around. I don't know where he is.  I don't know if he's alive.  I hope he is. It's just a wonderful country with just warm people. It's just so tragic what's happened. I'm very thankful for the time I got to spend there.
8. What is the biggest myth about budget travel?
The biggest myth is that it has to be uncomfortable. People have an image of "I'm going have a giant backpack. I'm going to be trekking and sleeping on planks or sleeping on the floor and being very uncomfortable. And, crammed in a room with seven backpackers." For some, people that works. For me, that's not always what I want.  I don't always want to have backpacking experience That's useful in some ways.
I think can travel inexpensively and still have a comfortable experience. And, still not have to have a flight with 20-hour layover in Frankfort or whatever. At some point, cutting corners and trying to travel as cheaply as possible at some point comes around to bite you, in my opinion. You can always do it more cheaply.
For a lot of people, you have decide what your time is worth. Maybe you have a limited amount of time in the county. Yeah, you can do it more cheaply, but what's the cost?
The myth about budget travel, number one, is that it has to be super uncomfortable and, nu mber two, that it's a race to the bottom to see who can spend the least amount of money.  At least for me, I find that when you do that, you frequently have to sacrifice a lot as far as the pleasurable amount of the experience and a lot of your time.
9. Name three things you always pack for a trip.
Portable phone battery charger. I don't know what I did before that. It's saved my life so many times.
Belt with a plastic buckle. It sounds stupid but going through security, I feel like every little inconvenience counts.
Plug adapters
LifeStraws water filter (depending where you are going)
10. What is your next adventure?
I don't really know yet. I'm sort of in the process of figuring it out. I'm pretty sure it's going to be sub-Saharan Africa. Possibly an African safari, South Africa. I would definitely love to spend some time in that region in Mozambique, Zimbabwe, Botswana and around there. It's not totally planned.
To read more about Lucas Peterson's adventures and tips, check out his Frugal Traveler column. 
Despite being on my bucket list, I kept pushing back my plans to go to Yellowstone. My goal was always to take two months and do an epic road trip through the major national parks in the Western U.S. The summer of 2019 was the plan. (Next summer is already reserved for Mongolia and riding camels down across the Gobi Desert.)  Then, National Geographic Student Expeditions offered me a position to run a Yellowstone Photo trip. Clearly, I said yes instantly. (The lack of Wi-Fi in Yellowstone is my excuse for being behind on blog posts! Apologies!)
Overall, Yellowstone was stunning. I've never seen so much wildlife anywhere in the world. (Well, except for that time that herd of camels ran out in front of our van in India on the way to the Taj Mahal.) Despite being peak season, it was much easier to escape the crowds than I expected. I've put together a photo guide to Yellowstone that includes top sights ad when to go along with budget and photo tips. Enjoy!  (For detailed maps of the park, stop by the visitors center to pick up free brochures or visit their Yellowstone National Park website or download the free app.) 

Yellowstone's Top Sites


Old Faithful
The most well-known site in the park is this cone shaped geyser that ranges from 90 to 184 feet high. It's the most predictable one in the park.  Follow @GeyserNPS on Twitter for latest prediction times. Predicted times will be posted all over the visitor's center and hotels in the area. Spend an hour or two walking through the maze boardwalks that wind between various geysers and thermal pools in the area including Morning Glory Pool.
Grand Prismatic
This colorful hot spring is the largest in the U.S. and third largest in the world. It's one of the most iconic sites in the park and located in the Midway Geyser Basin a few miles north of Old Faithful. FYI: The Fairy Falls hike that gives you a view above Grand Prismatic is closed for construction as of July.
Biscuit Basin
This collection of thermal features including geysers and thermal pools is part of the Upper Geyser Basin. Sapphire Pool, above, is the most photogenic and named for it's clear blue water. The boardwalk loop is 2/3 of a mile.
Mammoth Hot Spring
Located right at the northern entrance to Yellowstone, the stair-step shape of this large hotspring is impressive. The boardwalks are extensive allowing you to view it from all sides, which is good for photography. If the light is bad in one direction, you can always walk to the other side to get a better angle.
Yellowstone Falls
The lower falls is the largest waterfall in the park at 308-feet tall. It's the probably the second most photographed site in the park after Old Faithful. The most iconic shot is from Artist Point that gives a great view of the canyon with the waterfall in the distance. (This spot will be PACKED with tourists.) Hike the steep Uncle Tom's Trail to get a view from the base of the falls, which is significantly less crowded.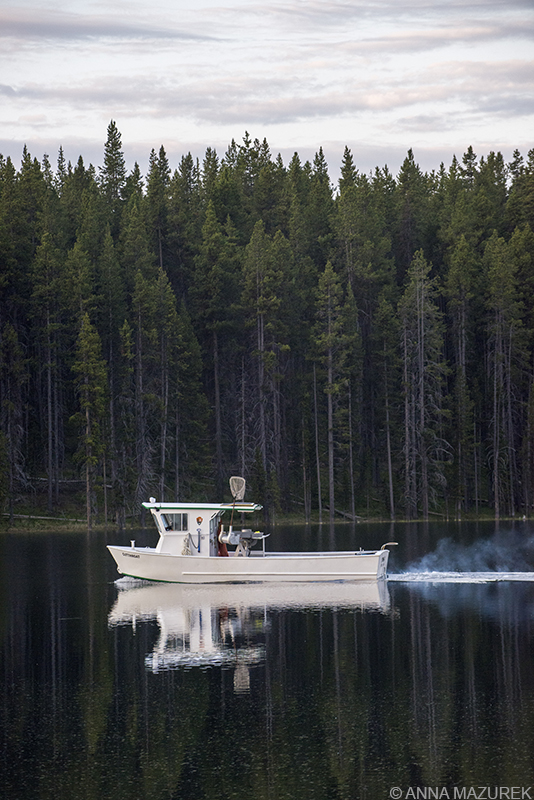 Sunrise at the marina at Yellowstone Lake


Yellowstone Lake

At 7,732 feet, the lake is the highest elevation lake in North America. It's stunning so be sure to take advantage of the many viewpoints to stop for photos. The marina is also great for photos.

Lamar Valley
This area is known as the Serengeti of the North America due to the high concentration of animals. The Northern bison herd hangs out in this valley and stretches north to the city of Gardiner. A sunrise drive through this area is a must for any trip. I also recommend taking a Yellowstone Forever guided tour. Our guide, Josh, was a pro at spotting wildlife that no one else noticed and could answer almost any question about the park.
Hayden Valley
This is another excellent spot for animal spotting. This area lies between the Yellowstone River and Yellowstone Lake. There's also a high chance of spotting waterfowl as well. Again, sunrise is a great time for drive through the valley toward the lake. Since there's plenty of pullouts, it's easy to even take photos from the car and keep a safe distance from the animals.
How to beat the crowds at Yellowstone  
Summer is peak season so I was dreading the crowds. I imagined hoards of tour buses and traffic that made rush hour on the 405 in L.A look like an F1 race. I was pleasantly surprised. Yes, there were lines of cars getting into parking lots. The majority of people get fed up and parked all along the roads, which meant that I ALWAYS found rockstar parking in the lots even though I was driving a 15-passenger van! Patience pays off when parking at Yellowstone.
Almost all the major sites in the park were empty before 10 a.m. and after 6 p.m. Sunset was around  9:15 p.m. in July when I was visiting. (The average vacationer isn't up early and eats dinner around 6 p.m.) I was up at 4:30 a.m. most mornings and shooting until sunset. Honestly, I was seriously shocked how empty the sites were at sunset especially!
Yellowstone Budget Tips
Take your own food. There is a lack of variety in food options in the park. The cafeteria restaurants have the exact same menu every day for both lunch and dinner. (The average meal cost without a drink was roughly $10 USD at the cafeterias.) The best restaurant was at the Obsidian Dining Room at the Old Faithful Snow Lodge.  I recommend driving to the town of Gardiner at the northern entrance for meals if you run out of food or need some variety.
Camp: The lodges are nice but expensive. There are 12 regular campgrounds with over 2,000 sites. Five campgrounds can be reserved in advance and the rest and first-come first-serve basis. There are also backcountry camping options. For more info on camping, visit https://www.nps.gov/yell/planyourvisit/campgrounds.htm
Fee Free Dates: Take advantage of these fee free dates for national parks every year. Normally, the park entrance fee is $30 per car or $50 combo pass for Yellowstone and Grand Teton.
Buy Gas Outside the Park: As expected, gas is more expensive and harder to find in the park. Fill up in Gardiner or any of the towns outside the park.
Yellowstone Wildlife Photo Tips
The early bird gets the photo. We were in the car and on the road 30 minutes before sunrise almost every day. This is also great for scenic landscape shots as well as animals. The best spots for wildlife are the Lamar Valley and Hayden Valley as mentioned above.
Be realistic with expectations. The odds of seeing a lynx are less than your odds of winning a toy from one of the arcade machines with the metal arm. You will see a ton of wildlife but aside from bison and elk, most will likely be too far away for your phone photos. We met people who waited seven hours to photograph bears.
Take a 400mm lens. My 70-200mm lens wasn't enough for tight animal shots or even including animals in landscapes. Thankfully, I was able to borrow a friend's 400mm lens but even then, some animals like the baby coyotes we saw were too far away.
Keep a safe distance. Don't be a statistic. People get seriously injured every year getting too close to animals. We saw a guy trying to take cell phone photos of an elk and get within three feet of it! Stay at least 100 yards from bears and wolves, and 25 yards from other animals including bison and elk.
Shoot from your car. I would pull my car over and shoot from the windows to keep a safe distance from the animals.
Watch your composition. Be aware of your foreground and background with animals shots. Avoid distracting elements like people or cars.
Get low. To help animals stand out from the background, get low.
DO NOT BLOCK THE ROADS. If you see a bear and want to take photos, do not be rude and stop/park in the road. It's not safe and causes horrible traffic problems. Pull over at the next turn off instead.
Best times for Photographing Yellowstone's Top Sites
Yellowstone Falls: Mid-morning (9- 10 a.m.) along the south rim of the grand canyon is best to catch light on the falls and possibly get a rainbow.
Obsidian Cliffs: Aim for mid to late afternoon to get the light glinting off the volcanic glass
Grand Prismatic & Thermal Features: For the most dramatic steam on any of our thermal features aim for a cool early morning light.  For the best colors aim for a slightly breezy hot late afternoon, especially if you really want to catch the grandeur of the Grand Prismatic. (We went to Grand Prismatic in the early afternoon and the sun was harsh with a bit of fog lingering. We went back at sunset one night after a small storm. The fog was more intense like a horror movie scene but still provided excellent photos like the image above.)
To avoid people: Go before 10 a.m. and after 6 p.m. in the summer. Most tourists sleep in and have dinner around 6 p.m.
Best time to visit Yellowstone
For wildlife:  Late May to early June before the crowds get here.  The bears and babies are everywhere and closer to roads that follow the lower routes through the park meaning less snow and more greens to eat.
For the best snow and high potential for wolves, late January to early February is best.
For flowers or fall colors,  mid-June at low elevation and late July at the higher elevations for flowers. Late August for the best fall colors.
__________________________________________

COMING UP:

Interview with the New York Times' Frugal Traveler 
In my next post, I chat with Lucas Peterson, the New York Times' Frugal Traveler writer. He discusses how he cuts travel costs, his favorite food cities and the biggest myth about budget travel.


In this week's Travel Tuesday Interview, I chat with Cuba expert Ramze Suliman. He's been traveling to Cuba for the past seven years and is the author of two books about the country. (I met him in Havana on the first day of my Cuba trip!) He discusses the cost of traveling in Cuba, safety, how Americans can visit legally and the best restaurants in Havana.
Name: Ramze Suliman
Age: 42
Hometown: Las Vegas, NV
Country count: 50
Blog/Website: www.RamzeTravels.com

1. How did you start traveling?
I originally started working for a company that did poker cruises. That gave me a small taste of many countries and from there the [travel] addiction was born. I originally went to Cuba back in 2010 because I have always been a cigar lover. The minute I arrived, I was in love. I have since written two books about Havana (Havana for Americans and Top 100 Places to Eat in Havana) and started my own tour company there:  www.TheCigarLover.com
2. How can Americans legally travel to Cuba?
Due to the economic embargo, Americans technically still can't go for outright tourism. Obama opened it up quite a bit though. There are 12 sanctioned reasons that make it legal to go. Most people just choose either "Support of the Cuban people", "People to People educational tours" or "professional research."  These are all very easy requirements to fill and there is currently no real oversight or hassle with Americans traveling for these reasons. The gate agent will ask you when you check in at the airport in the US. That is the end of it.
3. When is the best time to go to Cuba?
Cuba shares very similar weather to Florida. The weather stays between 80-90 degrees Fahrenheit year-round, but it is more humid in the summer with more rain. December, January and February are peak months.

4. Where are your favorite spots to eat in Havana?
Havana has some great restaurants and food and a lot of mediocre ones. My top three are Starbien, La Terazza and La Guarida. That said, I live there so I have lots of very inexpensive street foods I love. [FYI: Starbien is my favorite!]

5. What are your three favorite cities in Cuba?
Havana for the energy, Viñales for the sheer beauty and Varadero to just chill on a beautiful beach.
6. What's the average daily cost of traveling in Cuba? Can you share some budget tips?
Cuba has some wild swings in what things cost. You can literally get a shot of coffee for .4 cents and then have to pay $25 bottle of sunscreen. Being prepared and knowing what to bring and where to go is more important than most countries. There are no supermarkets or drug stores on every corner to just pop in if you forgot anything. You can definitely hit the three budget ranges most people associate with though
Backpacker Budget:  $40/day
Average Budget: $100/day
Top Tier Budget: $200-$300 a day
Cuba Budget Tips:

Internet is $2 per hour and cards can be bought at all major hotels and at the government office called Etecsa.
Hotels currently are overbooked and severely overpriced. You can book at Casa particulars (private homes) for around $30 per night. This is the best option, and you will get a better feel for how Cubans actually live.  Check Airbnb for listings. [I stayed at casa particulars, which is how I met Ramzee.]
Learn to eat at the local peso kiosks and restaurants. If you see them full of Cubans, then you know they are cheap and good. The Cuban pesos is 24 to 1 with the CUC or Dollar. You can have a good meal for a buck.
The tap water is potable. Carry a small filter and drink the tap. Bottle water isn't always easy to find and is expensive.
Fruits and vegetable markets are widespread in Cuba and are heavily subsidized by the government. So, is bread. You can easily buy both for pennies and make healthy easy meals. Take a jar of peanut butter with you.
7. Share one of your travel highlights in Cuba.
I have learned to speak Spanish in Cuba. I took salsa lessons, learned to scuba dive and got some tattoos all while traveling around Cuba. There really is something for everyone and it has definitely enriched my life. I am writing this from Spain currently and it is such a pleasure to be able to speak to the locals here in Spanish!

8. What is the biggest myth about Cuba?
Safety. People always ask if it is safe. I have visited 50 countries and it is the safest I have ever been to! [I agree with Ramze. I always felt safe.]
The Cuban people have always been warm and friendly. They love American tourists the most because we tip and also because we are the closest to their lifestyles. In seven years of being in Cuba off and on, I have never heard of or witnessed any violent crime. I have walked dark streets at night and nobody will even approached me.

9. Name three things you always pack.
My electronics, my flip flops and my cigars
10. What is your next adventure?
I am officially moving to Havana full time in June. I am thrilled to finally call Cuba my official home. I have some repeat trips planned this year to Thailand and Colombia and some new ones to other parts of Southeast Asia

Want to know more about Cuba?
To connect with Ramze, check out his blog, Instagram and his two books on Cuba: Havana for Americans and Top 100 Places to Eat in Havana.
Looking for photo tips for Cuba? Check out my Photo Guide to Havana!
(Please note