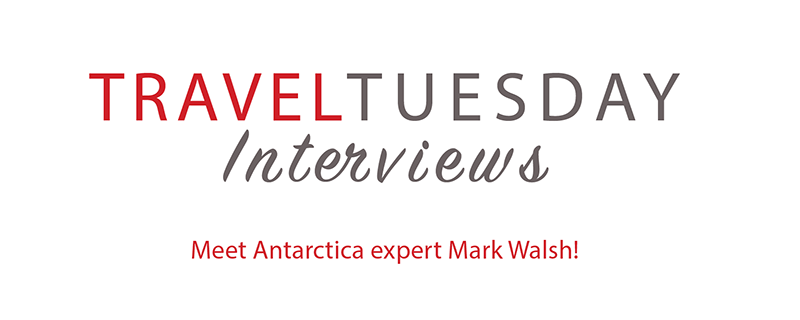 In this week's Travel Tuesday Interview, I chat with Antarctica expert Mark Walsh. Mark has worked in Antarctica five seasons and dishes all the details about living on the continent. He also shares a link to his FREE ebook about working on "the ice."
Name:  Mark Walsh
Age:   35
Hometown:  Moss Point, MS
Country count: 12
Blog/Website:  www.markwalsh.co 
1. How did you start traveling?
I was a pretty adventurous child. We would take extended bike, boat and camping trips from a pretty young age. I think that curiosity eventually extended into places farther from my initial stomping grounds along the Gulf Coast of Mississippi.  I started moving away from home during the summers in high school, and then went far-off for college.  Each time, I would come back as a better version of myself and always strived for lengthy and immersive travel experiences to help further that growth.
2. Tell us about how you end up working in Antarctica.
I found out about the US Antarctic Program (USAP) while working as an undergrad Research Assistant at the College of Charleston.  My professor was familiar with the program and encouraged me to apply.  I didn't get far those first couple of years, and so I eventually flew to Denver where USAP's main offices are located.  I met with some hiring managers and came up with a plan – to become a weather observer.   It took about a year to get certified as a weather observer, and then another three years working part-time at Mobile airport before gaining enough experience to actually get hired. My first trip to "the ice" [Antarctica] was in 2009, and I've been a total of five times now:  three summers and two winters.  It was a long process for me—five years from first application to deployment—but it was certainly worth it.
3. When is the best time to go to Antarctica?
Antarctica is most accessible during the Austral summer (October – March) when there is 24-hour daylight and relatively warm temperatures (+20 F).  Most of the science happens during those months, so more jobs are available within the USAP and there are lots of people on the station. The cruise ships also operate during the summer for anyone who just wants to quickly visit the continent.   Most people will see Antarctica during the summer; however, the Antarctic winter also brings job opportunities as well as unique experiences. The constant darkness, colder temperatures, and small working populations give the winter season a completely different feel.  So, it really depends on what you're looking for:  the bright, fast-paced flurry of summer activity or the slower, darker, more personal-sabbatical feel of the winter.  I suggest trying both.
4. What types of jobs are available in Antarctica? 
There are many different jobs available in Antarctica. Basically, anything required to keep a small city operating is also required on the ice. This is especially true of blue-collar jobs and skilled labor. There are far fewer admin/computer jobs available, but they exist, as do other positions that do not require specific degrees or experience.  However, these entry-level jobs tend to be more competitive.  The pay for all jobs is about the same as you would get on mainland U.S. so it's not a get-rich-quick scheme. But, people are generally able to save more money in Antarctica since room/ board are provided.  I wrote a short guide about getting jobs in Antarctica that can be downloaded here for free.  The guide provides a list of the different types of jobs available that range from carpenters to mechanics to chefs
5. Share some tips for people wanting to work in Antarctica.
Apply.  It's awesome how much information is available on getting jobs in Antarctica today.  This has not always been the case, which is one reason why it took me so long to get there.  Sure, even today, you may not get hired on your first try.  But, there is no reason that you can't get a job doing something within a year or two.  And rest assured, U.S. citizens have more opportunities to work in Antarctica than anyone on this planet because the U.S. Antarctic Program hires three to four times more people than any other countries' Antarctic program. We are very fortunate.
6. What's the average cost of a trip to Antarctica if you aren't working there? Share some tips for getting there on a budget.
I've never actually paid money to go to Antarctica, so cannot say from actual experience. However, I do know that most people will take a cruise to Antarctica from South America so [they] will have to fly to Chile or Argentina ($1-2k).  An average cruise will be about $4-6k per person, plus some gear, excursion costs, incidentals, etc.  I would bet on $7-10k per person for a standard Antarctic experience.  But like anything, the sky is the limit. I have heard of people hanging around Tierra Del Fuego and catching some last-minute cruise deals for about $2k.
[Update on Antarctica costs from TravelLikeAnna: The average cost is roughly $10,000 for a cruise if booked in advance with flights. There are a lot of last minute deals out of Ushuaia, Argentina, which is the main hub for cruises. When I was in Ushuaia, there were deals ranging from $7,500 to $5,000. But, I met a guy who just got back from a last-minute deal that was only $2,500. It is possible to get last minute deals, but you might have to hang out around Ushuaia for a while to get one. It's not the cheapest place to hang out. The area is beautiful though with lots of fun things to do. Antarctica is possibly on my list for next year so I'll post more details if/when I make it down there.]
But here's the thing – you can bypass all this by working for the USAP.  Not only are you being paid to go but are able to have experiences that money cannot buy.  Want to go to the South Pole?  Sure, there is a company can take you there.  Just plan on spending $40-60k.  Want to actually sleep in the South Pole station?  Sorry, you have to work for the U.S. Antarctic Program.  Otherwise, you'll be outside in a tent. Granted, a very nice tent.
7. Share one of your travel highlights in Antarctica.
There are so many. I mean, the entire experience of working in Antarctica is a highlight. I've enjoyed exploring ice caves, mountain biking, going to South Pole, visiting historic huts, seeing wildlife, conducting scientific research, performing at an outdoor music festival, polar plunging, flying in military aircraft, experiencing -61 F temperatures (not wind-chills), running a 5k, etc.   But the fact is these day-to-day activities become routine, even in Antarctica!  I think the best part of going to Antarctica is similar to what you experience whenever you relocate to a different environment.  It's the ability to create new habits and routines, to learn from new people and surroundings, and to ultimately leave as a better and more developed person.  This is certainly possible in Antarctica, and is the thing to which I look most forward every time I go.
8. What is the biggest myth about Antarctica?
Aliens built pyramids there.  I'm kidding… sort of. But that does seem to come across Facebook pretty regularly. Otherwise, I'm not sure people actually know that much about it. Most of the questions I get from people are pretty generic.  Although, there does seem to be some confusion about penguins and polar bears.   Polar Bears = Arctic = North Pole. Penguins = Antarctica = South Pole.
9. Name three things you always pack for Antarctica.
A sewing machine, indoor soccer shoes and  a cordless phone.
One of the best things about working in Antarctica is the simplicity of life.  You live on an island, both literally and figuratively.  There are no cell phones (but we have pagers!) and have slow internet with landline telephones. Your room and board are provided, and most people don't ever have to cook or clean.  There is no commute to work, as your dorm is a short walk from everything: the cafeteria, gym, three bars, and rumor has it – a library (although I've never been there….I'm kidding. It's nice and quaint with more books than you could ever read).
You typically work nine hour shifts, six days a week, but will find you actually have more free time than you would in the States. This gives you the opportunity to do many of the personal projects and recreational activities you may not otherwise be able to do.  There are clubs to join, sports leagues to play, craft rooms to create, and bands to practice with. Most people's creativity is allowed to flourish in this environment, and there is plenty of evidence that it does.
10. What is your next adventure?
Good question. I'm currently in Mississippi rebuilding a 38' sailboat.  I imagine I'll have some warm-weather adventures between future trips to the ice.
__________________________________________ 
COMING UP NEXT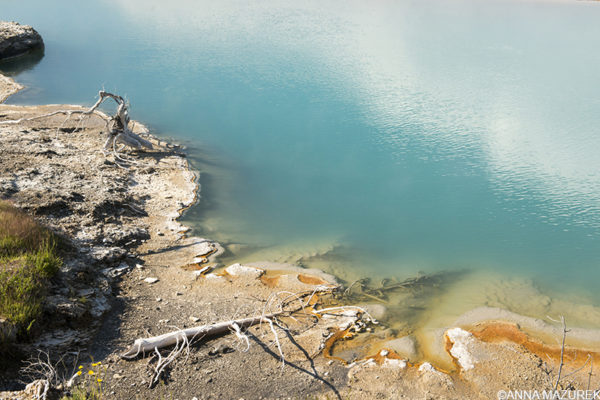 Best of 2017
Next week, I'll wrap up 2017 with a recap of the most popular posts and adventures from the year to inspire your 2018 New Year's travel resolutions! What are your travel resolutions for 2018?
12 Travel Holiday Gift Ideas*
2017 has been a year of big adventures for me and Alfred the gnome! I have discovered a lot of great travel gear and accessories that have made my life easier. Due to the epic portion of trips like Yellowstone and Kilimanjaro, I invested in some quality gear that I've fallen in love with and should have bought years ago. Here's a few ideas (big and small) to help you find the perfect gifts for friends and family. Feel free to add these to your own Christmas list before you send it to Santa!
1. Columbia Wicking/SPF Shirt
The National Geographic photographer I worked with this summer in Yellowstone was wearing a Columbia Silver Ridge Lite button-down shirt. It's a lightweight, long-sleeve wicking shirt with a SPF of 50. I'm not a fan of button down shirts for superficial reasons so I've never invested in this type of shirt but after getting sunburned in Yellowstone, I changed my mind. I wore that shirt everyday almost in Kilimanjaro! It's has hidden shoulder vents that really help you stay cool. It's the same style as the men's Columbia PFG shirts that everyone in Texas wears. Here's a link to the men's version and women's version.

2. Wide-brimmed Safari Hat
I was the only person who didn't get sunburned on my Kilimanjaro trek thanks to my ridiculous amazing wide-brimmed hat I got from REI. I recommend investing in one with a neck flap that you can tuck away easily. While it may look silly at times, it will save your skin. I only wish 20-year-old Anna hadn't been so overly concerned with looking cute and cared more about saving her skin. Here are several great options for wide-brimmed hats including REI's Sahara outback cape hat, Columbia's Bora Bora Booney sun hats and Outdoor Research sombriolet sun hat.
3. Skyline Hard Shell Suitcase
As a photographer, it's always a struggle to find the right luggage. Since my camera gear and laptop weigh roughly 30 pounds, I can't get by with a traditional hiking backpack. Instead, I carry all my camera gear in a 32-liter Osprey day pack and take a carry-on sized 22-inch spinner suitcase. Before my South America trip in 2014, I bought this $60 Skyline 22-inch suitcase at Target last minute. I literally love it and just bought a new red one for my next big trip. There's more space in this suitcase itself than any of the fancy brands. Trust me, I've done the research and even compared the sizing to Samsonite models recently. (When it's jammed full, it doesn't roll too great without tilting it to pull behind you. I've yet to find a carry-on size 360 spinner suitcase that rolls well along side me when it's filled. Feel free to share if you have one that does.)
4. Nuun Electrolytes
These electrolyte tablets are the single greatest thing I've discovered the entire year! They really saved me hiking in New Mexico and on Kilimanjaro. Dehydration was a huge issue when I worked in India as well. Gatorade mixes were too sugary, and electrolyte salts were just gross. These tablets dissolve in 16 ounces of water and only have one gram of sugar! The lemon lime is the best flavor. There's 10 tablets per container and it's cheaper to buy them in bulk.
5. CamelBak Reservoir (1.5-2 liters)
The more things you can access without taking off your daypack, the easier your trek will be. I resisted buying a CamelBak for years because I didn't like the idea of a bag of water being in the same bag as my camera. I got over that quickly once I realized how sturdy and amazing CamelBaks are for hiking. I have the 1.5 liter CamelBak reservior but would recommend the two liter instead. I recommend the bite value cover to keep the value clean. (TIP: You want to make sure that you buy the actual CamelBak brand that has the water tube attached to the BOTTOM of the bladder to make it easier for water to flow through. If  the tube is attached to the top, you can't access water at bottom of bag and must refill more often.)
6. Marmot Raincoat
Investing in quality rain gear is a must for any traveler. In 2013, I bought a pink Marmot raincoat for half price ($50) on sale at REI. I wore that jacket all over the world until the lining started to rip. Turns out, Marmot has an amazing lifetime warranty and replaced the jacket for me just last week at no cost! It pays to invest in quality brands like Marmot and Osprey who have excellent warranty programs and customer service. They have my business for life!

7. Shoe Bags
Sometimes, the smallest, cheapest things make traveling easier. I have a couple cheap shoe bags that I've been using for years for traveling. These are a huge help to keep the rest of your luggage clean. It's also better for the environment to use shoe bags instead of plastic bags. TIP: Multiple pairs of flat shoes like flip flops, Toms or sandals will easily fit in one bag together. Packing cubes are another inexpensive but helpful travel gift. My mom gave me some recently, and they made life so much easier on my last trip!
8. PrAna Hiking Pants
Hands down, PrAna makes the best hiking pants on the market for both men and women. While most hiking pants are ill-fitting, their pants are flattering, stylish and fit well. I've had one pair since 2013 and still wear them. I just bought this style this year and LOVE them. Two girls I worked with this summer in Yellowstone had the exact same ones. Here's a link for women's prAna pants and men's PrAna pants.

9. Patagonia Capilene Thermals
There's nothing more that I hate than being cold. Before my Kilimanjaro trek, I finally invested in quality thermals from Patagonia. They saved me on summit day when it was minus 11! I wear the thermal bottoms to go running now and used them on a camping trip in New Mexico as well. I recommend the mid-weight bottoms and the mid-weight zip-neck long sleeve top. (I wasn't a fan of the basic crewneck but loved the zip neck!) The tops have loops for your thumb, which makes layering easy!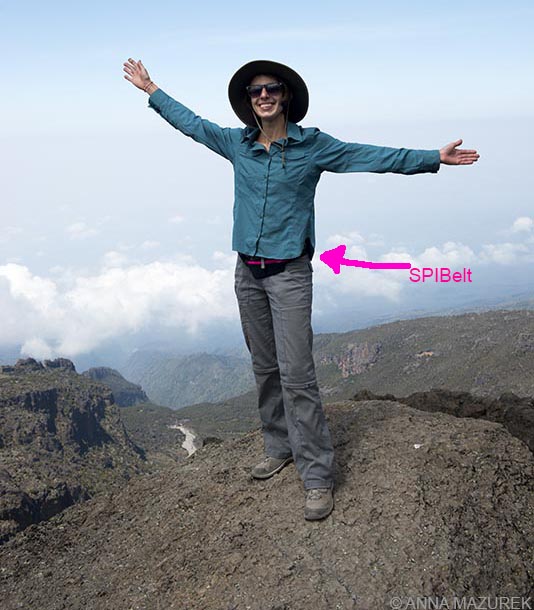 10. SPIbelt
I borrowed this tiny iPhone-size waist belt from a friend when I hiked Kilimanjaro so I could keep my phone easily accessible at all times. It's compact and fairly discreet. I'm buying one for myself and plan to use it as a money belt at times especially to hide my phone and money under my clothes on public transport in high-theft places.
11. Bare Republic SPF stick
I've been on a mission to find the best natural sunscreen for years. Turns out, it's a brand you can buy at Target or Amazon: Bare Republic. It's pure zinc and titanium dioxide. It isn't overly greasy, and the light smell is really nice.  I'm a big fan of their SPF stick. I keep in my car to use on the back of my hands when I drive. I use it to touch up my nose and face when I'm hiking, too!

12. REI Joule 21 Sleeping Bag
This sleeping bag was my Christmas present to myself. (I literally bought it today!) Experience has taught me that I need the lightest, warmest sleeping bag possible. I usually rent or borrow a sleeping bag so I don't have to lug it around when I'm not hiking. After freezing every night on my Kilimanjaro trek last month in my rented sleeping bag and dealing with a bulky one in Torres del Paine and Iceland, I decided that I finally need to invest in my own for hiking trips. After a lot of research, this sleeping bag is one of the lightest ones I've found with a temperature rating below freezing. It weighs around two pounds.
____________________________________________________
*P.S. I am not sponsored by any of the brands or products mentioned above. I have used all the products myself and found them extremely helpful. Please note some Amazon affiliate links are included above. If you click on the link and make any type of Amazon purchase, I earn a small commission with no additional cost to you. I hope you found this post helpful and appreciate your support of the blog. Please email me if you have questions.
____________________________________________________
 \
COMING UP:


In my next post, I chat my friend Mark Walsh who has worked in Antarctica for seven seasons. He dishes all the details about his experience and the wide variety of opportunities for people of all skill levels to do the same!
It is impossible to resist the charm of India. There is no place on the globe as colorful, intense, captivating, heartbreaking or complex.
Despite the bouts of food poisoning and the time my right foot fell through a sewer drain, I can't resist coming back. (I spent five summers in India teaching photography to high school students.) Every single moment, even just walking down the street, was an adventure.
While I've only explored a small portion of the vast country, there were endless amounts of surreal moments – photographing the Dalai Lama's teaching at his temple in McLeod Ganj, skipping rocks across the clear waters of Tso Moriri Lake along the Tibetan border, and living on a houseboat in the tranquil backwaters of Kerala.
I consider India to be my greatest teacher. The people quickly won me over with their kindness and humble elegance. I stayed at a guesthouse in the Himalayas run by an old man and his daughter, who was a nun. They spoke no English. The 80-year-old father spent the evenings by the wood stove reading his Buddhist mantra and spinning his prayer wheel. They had no running water and only had electricity for a few hours each night. Their life was simple. Yet, they were the happiest people I've ever met. I couldn't help but wonder who has the better life—me or them? Their lives are harder physically, but Western life seems harder psychologically.
India dissolved every notion I had of the world and opened my mind. She made me grateful for the all the little things I took for granted and set my priorities straight –running water and 24-hour electricity are luxuries, not necessities. I have a greater appreciation for the ease of life in the U.S. thanks to India.
India also makes me laugh. Where else in the world can a herd of camels cause a traffic jam? Newspaper is considered an acceptable form of food storage. I'm always in awe and secretly jealous of how the locals can sleep soundly literally anywhere—on the tops of cars, concrete doorways or a grassy spot in the median of a large busy highway in the Texas-like heat. The U.S. would require you to sign a liability waiver and wear a hard hat just to walk outside the Delhi airport.
For more about India, check out my next post: 12 Places Not to Miss in India!
ALL CONTENT © 2017 ANNA MAZUREK