The biggest myth about travel is that it is outrageously expensive.
I bet it might even be cheaper than where you live now. I spent seven months in Latin America and traveled to 11 countries from October 2014 until May 2015. I tracked every peso, dollar and boliviano I spent in an expense tracking app. I spent hours analyzing the results to provide the detailed and honest breakdown of all my expenses below.  (I never want to look at a spreadsheet EVER again!) This includes everything from pay toilets to beer!
Before any big trip, I ELMINATE my bills and focus on saving for travel. In previous posts, I have discussed the cost of travel, solo travel, travel safety, travel banking and how to prepare for a long-term trip. On average, I try to live on $1,000 USD/month no matter where I live. That's roughly $30/day. In Asia, this was a simple task, but I knew it was a challenge for Latin America due to high transport and visa costs in South America. Before any long-term trip, I like to have at least $10,000 in my savings account, which includes a cushion fund for when I come home. For this trip to Latin America, I saved $15,000 to help cover higher travel costs. To be clear, I have NO debt, which I talked about in a post from 2014.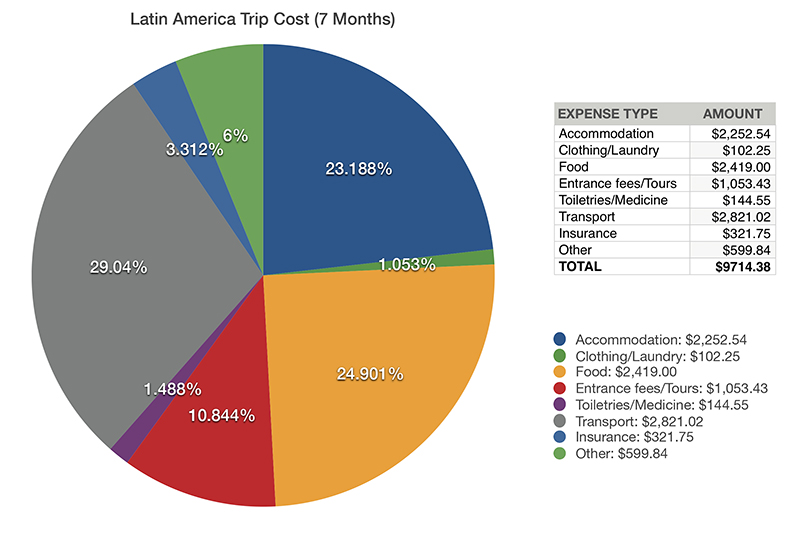 All prices are in U.S. dollars

Total Cost of Trip: $9,714.38
Cost per Month (7-month trip): $1,387
Cost per Day: $46
Countries visited: 11 total including Mexico, Cuba, Panama, Costa Rica, Colombia, Argentina, Chile, Uruguay, Bolivia, Peru and the Maldives (My friends flew me to the Maldives to shoot their amazing wedding!)
Biggest expenses: Machu Picchu ($229 including transport from Cusco and entrance fee only), Peruvian Amazon four-day tour ($402), a month traveling in Patagonia, Torres del Paine ($246.47 including food, entrance fee, rental gear, camping and transport from Puerto Natales, Chile), Cuba ($500 for two week trip); Bolivia Salt Flats ($179); Spanish classes ($259.30)
Summary: Overall, I stayed under my $15,000 budget and still came back to the U.S. with the cushion fund I had budgeted ($5,000). I did spend more than I hoped because I fell in love with Argentina and stayed for two months including one month in Patagonia. Is it possible to do this trip cheaper than I did? Of course! The goal of this post is to show an idea of the actual cost of travel and dispel possible myths. In the end, I do not regret a thing. Every single dollar was worth it!
Detailed Breakdown of All Expenses
Accommodation: $2,252.54
I stayed in dorm beds at hostels for the majority of my trip ranging from $8-$40/night. I shared larger private rooms with groups of friends I met on my travels. I also rented an apartment in Buenos Aires for $35/night and split it with a friend.

Transport: $2,821.02
(Transport $2,545.22 & Visas $275.80)
This includes every single form of transport (taxi, trains, flights, ferries) and all visas.
Visas: Argentina $160 reciprocity fee (As of 2016, Americans no longer have to pay this fee.); Cuba $25; Bolivia $60 for one-month entry
Flights: I flew 15 times and only paid for four flights because I'm a frequent flyer mile ninja. (This does not include the six flights to the Maldives to shoot my friend's wedding.) Domestic flights in Peru were only 6,000 miles each way so I flew multiple times to save time. I booked award flights a month to six weeks in advance. My trip ended in Lima because it is the cheapest place to fly back to the U.S. from South America. (Trust me, I did tons of research.)
Overnight buses were my main form of transport. The buses in Argentina were the most expensive—each bus was at least $100. I traveled only by bus and jeep from Ushuaia, the Southern most city in the world to Cusco, Peru.
I took an overnight ferry from Panama to Colombia for $150 because I refused to pay $400 for a one-way hour-long flight.
There are only two ways to get to Aguas Calientes, the gateway city to Machu Picchu: take the train or walk for seven hours. I travel with 30 pounds of camera gear (and a gnome) so I gladly paid for the $150 for the scenic train.

Entrance Fees/Tours: $1,053.43
This includes all museums, archeological sites, hiking, national parks and cultural attractions like Machu Picchu admission ($40); 4-day Amazon Tour in Iquitos, Peru ($403.91); Torres del Paine admission ($30); Bolivia Salt Flats tour ($179)

Food: $2,419
(Eating out: $1,565.97; Groceries: $299.92; Beer: $269.99)
One of my favorite parts of traveling is the food! The older I get, the more I spend on food. I eat well and never eat ramen, but I do eat a lot of peanut butter. Usually, I make peanut butter, banana and honey sandwiches for long bus rides or transit days when food options are limited. (TIP: Always pack a jar of natural peanut butter for a trip – it's either hard to find or expensive overseas.)
I ate my weight in steak and fresh berries in Argentina. All of which were extremely cheap.
I cooked a lot in hostels with other travelers, which meant most meals only cost about a few dollars. I also tried to only stay at places with free breakfast.
I only spent $13.12 on water because I took a Sawyer MINI water filter with me, which saved a lot of money and plastic. The tap water was drinkable in Argentina, Southern Chile, Panama and certain parts of both Colombia and Costa Rica.

Toiletries/Medicine: $144.55
(Toiletries: $54.39; Medical: $90.16)
This includes shampoo, medicines like ibuprofen, toothpaste and bandages for when I smashed my knees (and my iPhone) on a morning run in a park in Buenos Aires.
Contact solution was $20 in Panama! When possible, I ALWAYS buy sunscreen and contact solution in the U.S. before I leave because it's either hard to find, bad quality or overpriced abroad.

Clothing/Laundry: $102.25
(Clothing: $45.83; Laundry $56.42)
The only clothing items I really bought were socks and a llama sweater/gloves for Bolivia/Peru. I usually only pack for summer because I hate the cold. It's easier and cheaper to just buy a llama sweater, gloves and socks than drag warm clothing around for five months. For a list of my top 10 things to pack, check out this post.

Insurance: $321.75
I paid $50/month for zero-deductible travel medicine insurance with emergency evacuation coverage and an adventure sports rider through IMGlobal. I opted for the 30-days of home coverage after I returned to give me time to sort out my American insurance. I always cancel my American health insurance when I travel long-term because most U.S. policies offer limited international coverage.

Other Expenses: $599.84
This includes the following: Pay toilets: $3.91; Gifts: $34.65; Postage: $56.92; Spanish classes $259.30; WIFI: $16.42, Tips: $36.17; Other: $192.47
QUESTIONS: Now that I have bared my soul and travel finances to you, I have one small favor to ask. Tell me what topics you would like to see covered on the blog in future posts! What are your travel questions or concerns? Please comment below or email me.  I'll respond as promptly as possible or answer your questions in a detailed post in the future.
COMING UP: Guide to Working Abroad