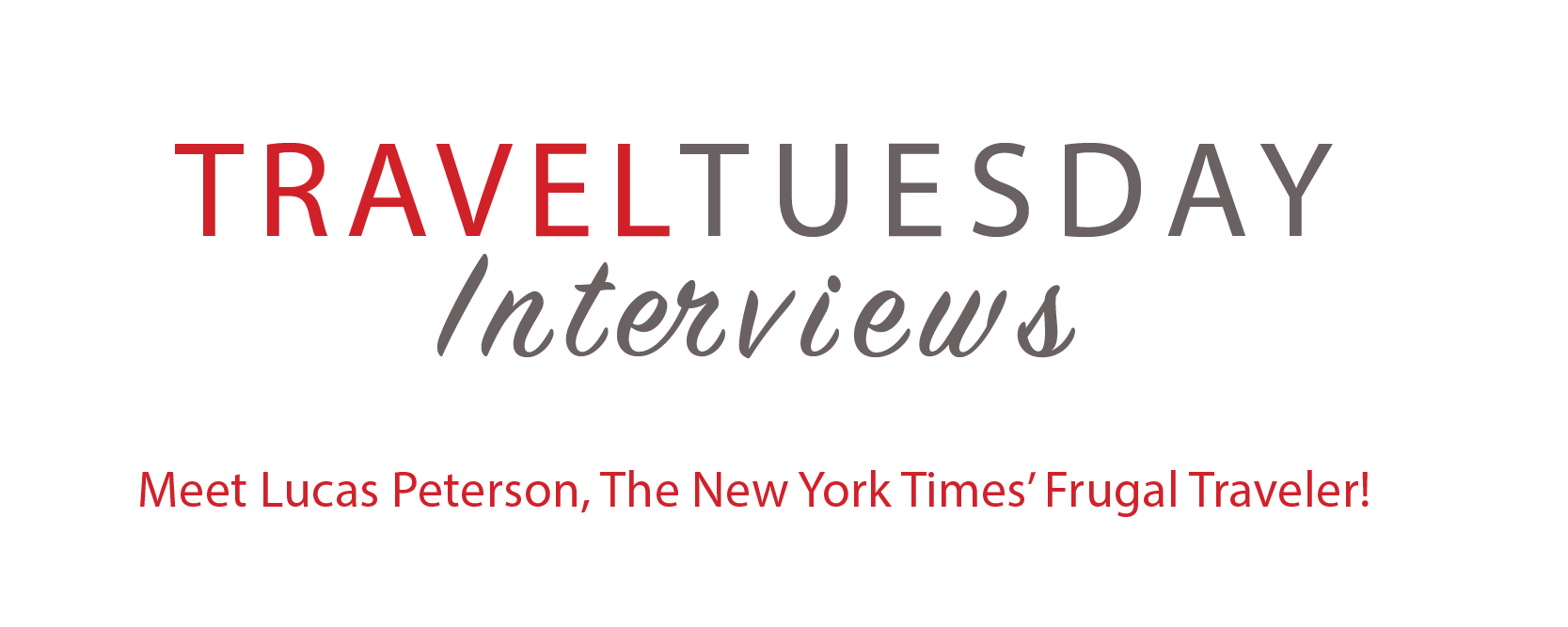 In this week's Travel Tuesday Interview Series, I chat with The New York Times' Frugal Traveler, Lucas Peterson! Peterson has been dishing budget travel advice since he took over the reigns of the column an year and half ago. He discusses his favorite food cities, his travel highlights and his travel budget philosophy.
Name: Lucas Peterson
Hometown: Oak Park, Illinois
Current home: Los Angeles, California
Country count: At least 30
Website: nytimes.com/frugaltraveler
Twitter: Lucas Peterson, Frugal Traveler
Instagram: StaleTwizzlers
[This interview was conducted over the phone, transcribed and edited for length.]

1. How did you start traveling?
I was lucky enough to travel a lot when I was a kid. My parents frequently traveled for work. When I was kid, I got to tag along on a couple of trips [including Egypt and China], and I think that was the what inspired a love of travel when I was young
When I was 16, I was an exchange student. I lived in Netherlands for a year. Then, I lived in China when I was 19. I got a job at a hotel there and worked there for a year.  I did The Peace Corps in Central America when I got out of college. I've sort of always liked it. It's always been an interest. I have my parents to thank for that.
2. What does your average work day look like as the Frugal Traveler?
Man, it depends on the day. Imagine a little flow chart, then you go down a certain path where the first question is "Are you on the road?" Yes or no. If yes, then things are a little more busy. Obviously, I'm in a place with a limited amount of time on the ground, trying to go see things and have as many different experiences as I can. Then, very aggressively taking notes wherever I go. Those days are busy. I have very busy stretches of time when I'm on the road. Then, also, usually I'll try to piggy back trips on top of the other.
I live in L.A. so if I go to Europe. I'm not going to go Europe for one story. I'm going to try to get a few different stories out of a trip. Usually, I'm going to a couple different countries. Then, if you combine that with having to be filing stories from the road, which I frequently am, then, it gets really busy. So, I will be out all day working and stuff. Taking notes on stuff, traveling around, then trying to have the notes in order and getting back to wherever I'm staying. If I'm staying at a hotel and then, [I'm] trying to write a story about a place I was at some months ago, which is tough. I get confused especially if [I am] in a totally different place. Those times can be pretty tough.
When I'm not traveling, sometimes I have days that are pretty free. But, I'm still filing stories when I'm at home. I'll typically have a story I'm writing every week. When I'm writing a story, then there's different rounds of edits. I do have other freelance writing obligations. I do a video show. I do a food show for a site called Eater. Every now and then, I'm shooting that show as well.
That's the long answer. The short answer is It depends to the day.
3. What is your average daily budget for traveling?
There is no budget. It's funny. The reason why [some publications] don't give a budget is they don't want people spending up to that budget. They sort of trust me to keep costs low and under control. I'm pretty good at finding deals and stuff. It's interesting, no set budget.
If you're traveling on your own budget, would it be the same?
I don't have super luxurious tastes so it's never really been an issue. If I were on vacation for myself, I don't know. It would depend on where I was going. If I book a flight, I feel like a $1,000 is some arbitrary magic number for going to a place roundtrip. If I could spend a little more, get a better route, a nonstop or if I could save a ton of money…make two stops and add 15 hours to my trip, would I do it? Maybe I would.
I don't operate necessarily as far as dollar figures. There's no real magic numbers in my head at least when I'm traveling.
4. Can you share your top two tips for traveling on a budget?
Everyone sort of has a different set of needs and desires when they travel for fun. One [thing] that I like to do for fun anyways is I go to Google Flights, and I plug in some dates. And, then, I just look at map of world, and I look at prices. I like to see where can I go. Where can I possibly go and how much would it cost? It's a good way to get the lay of travel land. If you're saying to yourself, "I have a week in September."  You put that into Google Flights, and you leave the destination blank, and you can see everywhere you can possibly go and how much it will cost you.
It's a super good way of getting sense of what's possible and what's out there. It really depends on the season. It really depends on where you want to go.
If you want to go to Paris in June, you're going to pay. There's no real way around that. You are going to pay in a range of prices. You're not going to find a deal, whereas, if you go in September you [could] go for extremely cheap. When I travel, I like to use the bargain sites. I like to do the bidding sites like Priceline and try to find deals. Hotels.com had a thing where you would buy a $50 gift card for $40. [I'm on top of] where you can save $10 or $20 here and there.
I like to eat cheaply. I like to eat on the street depending on where I am. If I'm in Peru, and there's someone making delicious looking juice on the street, I will not hesitate to drink it. There's certainly risks involved. But, I love to eat on the street. It makes the connection between you and the place. You get a real sense of what it's like to live there. You are interacting with people. The other benefit is that it's super-duper cheap.
There's no real secret.  I mean there's no one cool trick to get super cheap travel. It doesn't happen. The more time you spend monitoring airfares, at some point, the law of diminishing returns comes in. You aren't exactly going to get a killer deal on a flight to London because it's hard. Your time is better spend thinking about what you are going to do on the ground.
5. Give us your picks for the three best food cities.
It's hard to beat China. I've spent time in Hong Kong, Shanghai, Beijing. It goes without saying that you have to like Chinese food.Paris is amazing. Do you love pastures and dairy? Yes, then you'll love Paris.
I spent some time recently in Southern Spain and Portugal, and the food there is top notch. It is also super-duper inexpensive. I also really just love the culture there.  You have a little snack and cup of wine for a 1.50 Euro and then, you walk around for a few hours. Then, you have another snack with a glass of beer. And, it's all pretty cheap. There's this culture that every few hours you have a glass of wine and a little snack. I really loved eating there. Then, I was just in Lima, and they have incredible ceviche.
It's hard to pick three. I'll pick China, Southern Spain and Portugal, and Paris. And, Lima.  I'll pick four.

6. Name a few of the best budget friendly destinations.
A lot of Europe is very accessible right now. A lot of it depends on getting down there. Once you are there, things are great.  It's just sort of an issue of finding that airfare. So, obviously, I did just got back from Peru, which I wholehearted recommend. It was super good. Just a rich country as far as geographically. You've got Lima on the coast, which is also sitting on the edge of desert. You've got Cusco in the mountains and if you go up to Iquitos, [you've got] the Amazon. It's easy to pop around when you're there.  There are local air carriers. I never had any problems getting around. The ceviche is really good. I took like a surfing lesson, which was super fun. That's one place that I love.
As far as cheap airfare, it seems like Iceland is the inverse from everything I've heard. I've never been, but from what I've heard, it's extremely cheap to get there and once you're there, it's expensive.

7. Share one of your travel highlights.
In my life, I got spend about a month traveling in Syria and Jordan when I was in college [in 1999]. They were both beautiful. Jordan was beautiful. The desert scapes, going to Petra and spending the night in the desert in this tent was a fantastic experience.
Going to Syria. We went to Damascus and Aleppo. Those are the two most beautiful cities I've ever been, too. The people were kind, the cities were fantastic, and the food was great. It totally breaks my heart that we can't go back, at least anytime soon. And, Aleppo is gone. That will always be a wonderful memory for me. 
We had a guide showing us around. I don't know where he is.  I don't know if he's alive.  I hope he is. It's just a wonderful country with just warm people. It's just so tragic what's happened. I'm very thankful for the time I got to spend there.
8. What is the biggest myth about budget travel?
The biggest myth is that it has to be uncomfortable. People have an image of "I'm going have a giant backpack. I'm going to be trekking and sleeping on planks or sleeping on the floor and being very uncomfortable. And, crammed in a room with seven backpackers." For some, people that works. For me, that's not always what I want.  I don't always want to have backpacking experience That's useful in some ways.
I think can travel inexpensively and still have a comfortable experience. And, still not have to have a flight with 20-hour layover in Frankfort or whatever. At some point, cutting corners and trying to travel as cheaply as possible at some point comes around to bite you, in my opinion. You can always do it more cheaply.
For a lot of people, you have decide what your time is worth. Maybe you have a limited amount of time in the county. Yeah, you can do it more cheaply, but what's the cost?
The myth about budget travel, number one, is that it has to be super uncomfortable and, nu mber two, that it's a race to the bottom to see who can spend the least amount of money.  At least for me, I find that when you do that, you frequently have to sacrifice a lot as far as the pleasurable amount of the experience and a lot of your time.
9. Name three things you always pack for a trip.
Portable phone battery charger. I don't know what I did before that. It's saved my life so many times.
Belt with a plastic buckle. It sounds stupid but going through security, I feel like every little inconvenience counts.
Plug adapters
LifeStraws water filter (depending where you are going)
10. What is your next adventure?
I don't really know yet. I'm sort of in the process of figuring it out. I'm pretty sure it's going to be sub-Saharan Africa. Possibly an African safari, South Africa. I would definitely love to spend some time in that region in Mozambique, Zimbabwe, Botswana and around there. It's not totally planned.
To read more about Lucas Peterson's adventures and tips, check out his Frugal Traveler column.