12 Travel Holiday Gift Ideas*
2017 has been a year of big adventures for me and Alfred the gnome! I have discovered a lot of great travel gear and accessories that have made my life easier. Due to the epic portion of trips like Yellowstone and Kilimanjaro, I invested in some quality gear that I've fallen in love with and should have bought years ago. Here's a few ideas (big and small) to help you find the perfect gifts for friends and family. Feel free to add these to your own Christmas list before you send it to Santa!
1. Columbia Wicking/SPF Shirt
The National Geographic photographer I worked with this summer in Yellowstone was wearing a Columbia Silver Ridge Lite button-down shirt. It's a lightweight, long-sleeve wicking shirt with a SPF of 50. I'm not a fan of button down shirts for superficial reasons so I've never invested in this type of shirt but after getting sunburned in Yellowstone, I changed my mind. I wore that shirt everyday almost in Kilimanjaro! It's has hidden shoulder vents that really help you stay cool. It's the same style as the men's Columbia PFG shirts that everyone in Texas wears. Here's a link to the men's version and women's version.

2. Wide-brimmed Safari Hat
I was the only person who didn't get sunburned on my Kilimanjaro trek thanks to my ridiculous amazing wide-brimmed hat I got from REI. I recommend investing in one with a neck flap that you can tuck away easily. While it may look silly at times, it will save your skin. I only wish 20-year-old Anna hadn't been so overly concerned with looking cute and cared more about saving her skin. Here are several great options for wide-brimmed hats including REI's Sahara outback cape hat, Columbia's Bora Bora Booney sun hats and Outdoor Research sombriolet sun hat.
3. Skyline Hard Shell Suitcase
As a photographer, it's always a struggle to find the right luggage. Since my camera gear and laptop weigh roughly 30 pounds, I can't get by with a traditional hiking backpack. Instead, I carry all my camera gear in a 32-liter Osprey day pack and take a carry-on sized 22-inch spinner suitcase. Before my South America trip in 2014, I bought this $60 Skyline 22-inch suitcase at Target last minute. I literally love it and just bought a new red one for my next big trip. There's more space in this suitcase itself than any of the fancy brands. Trust me, I've done the research and even compared the sizing to Samsonite models recently. (When it's jammed full, it doesn't roll too great without tilting it to pull behind you. I've yet to find a carry-on size 360 spinner suitcase that rolls well along side me when it's filled. Feel free to share if you have one that does.)
4. Nuun Electrolytes
These electrolyte tablets are the single greatest thing I've discovered the entire year! They really saved me hiking in New Mexico and on Kilimanjaro. Dehydration was a huge issue when I worked in India as well. Gatorade mixes were too sugary, and electrolyte salts were just gross. These tablets dissolve in 16 ounces of water and only have one gram of sugar! The lemon lime is the best flavor. There's 10 tablets per container and it's cheaper to buy them in bulk.
5. CamelBak Reservoir (1.5-2 liters)
The more things you can access without taking off your daypack, the easier your trek will be. I resisted buying a CamelBak for years because I didn't like the idea of a bag of water being in the same bag as my camera. I got over that quickly once I realized how sturdy and amazing CamelBaks are for hiking. I have the 1.5 liter CamelBak reservior but would recommend the two liter instead. I recommend the bite value cover to keep the value clean. (TIP: You want to make sure that you buy the actual CamelBak brand that has the water tube attached to the BOTTOM of the bladder to make it easier for water to flow through. If  the tube is attached to the top, you can't access water at bottom of bag and must refill more often.)
6. Marmot Raincoat
Investing in quality rain gear is a must for any traveler. In 2013, I bought a pink Marmot raincoat for half price ($50) on sale at REI. I wore that jacket all over the world until the lining started to rip. Turns out, Marmot has an amazing lifetime warranty and replaced the jacket for me just last week at no cost! It pays to invest in quality brands like Marmot and Osprey who have excellent warranty programs and customer service. They have my business for life!

7. Shoe Bags
Sometimes, the smallest, cheapest things make traveling easier. I have a couple cheap shoe bags that I've been using for years for traveling. These are a huge help to keep the rest of your luggage clean. It's also better for the environment to use shoe bags instead of plastic bags. TIP: Multiple pairs of flat shoes like flip flops, Toms or sandals will easily fit in one bag together. Packing cubes are another inexpensive but helpful travel gift. My mom gave me some recently, and they made life so much easier on my last trip!
8. PrAna Hiking Pants
Hands down, PrAna makes the best hiking pants on the market for both men and women. While most hiking pants are ill-fitting, their pants are flattering, stylish and fit well. I've had one pair since 2013 and still wear them. I just bought this style this year and LOVE them. Two girls I worked with this summer in Yellowstone had the exact same ones. Here's a link for women's prAna pants and men's PrAna pants.

9. Patagonia Capilene Thermals
There's nothing more that I hate than being cold. Before my Kilimanjaro trek, I finally invested in quality thermals from Patagonia. They saved me on summit day when it was minus 11! I wear the thermal bottoms to go running now and used them on a camping trip in New Mexico as well. I recommend the mid-weight bottoms and the mid-weight zip-neck long sleeve top. (I wasn't a fan of the basic crewneck but loved the zip neck!) The tops have loops for your thumb, which makes layering easy!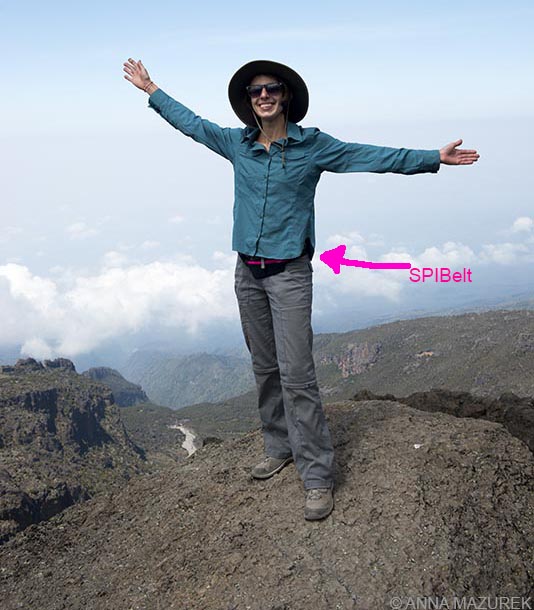 10. SPIbelt
I borrowed this tiny iPhone-size waist belt from a friend when I hiked Kilimanjaro so I could keep my phone easily accessible at all times. It's compact and fairly discreet. I'm buying one for myself and plan to use it as a money belt at times especially to hide my phone and money under my clothes on public transport in high-theft places.
11. Bare Republic SPF stick
I've been on a mission to find the best natural sunscreen for years. Turns out, it's a brand you can buy at Target or Amazon: Bare Republic. It's pure zinc and titanium dioxide. It isn't overly greasy, and the light smell is really nice.  I'm a big fan of their SPF stick. I keep in my car to use on the back of my hands when I drive. I use it to touch up my nose and face when I'm hiking, too!

12. REI Joule 21 Sleeping Bag
This sleeping bag was my Christmas present to myself. (I literally bought it today!) Experience has taught me that I need the lightest, warmest sleeping bag possible. I usually rent or borrow a sleeping bag so I don't have to lug it around when I'm not hiking. After freezing every night on my Kilimanjaro trek last month in my rented sleeping bag and dealing with a bulky one in Torres del Paine and Iceland, I decided that I finally need to invest in my own for hiking trips. After a lot of research, this sleeping bag is one of the lightest ones I've found with a temperature rating below freezing. It weighs around two pounds.
____________________________________________________
*P.S. I am not sponsored by any of the brands or products mentioned above. I have used all the products myself and found them extremely helpful. Please note some Amazon affiliate links are included above. If you click on the link and make any type of Amazon purchase, I earn a small commission with no additional cost to you. I hope you found this post helpful and appreciate your support of the blog. Please email me if you have questions.
____________________________________________________
 \
COMING UP:


In my next post, I chat my friend Mark Walsh who has worked in Antarctica for seven seasons. He dishes all the details about his experience and the wide variety of opportunities for people of all skill levels to do the same!